Meet Joe Garlow
Brookhaven Lab intern and Stony Brook graduate student is putting a spin on energy
February 23, 2015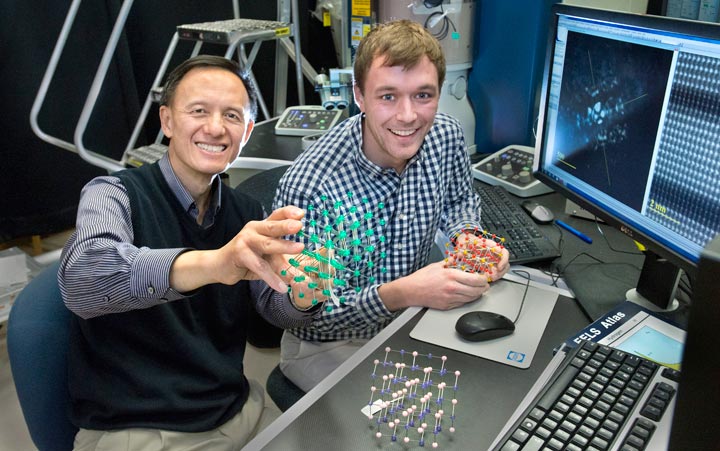 enlarge
Using models that represent the structure of materials such as graphene, perovskites, and gallium arsenide, Garlow and Zhu are searching for applications that will create faster and more efficient computers and new electronic and energy technologies.
When Joseph Garlow graduated from Ward Melville High School he was fairly certain what career path he wanted to follow. So, he headed off to the State University of New York (SUNY) at Cortland to work toward a degree in sports medicine and orthopedics. Shortly after his arrival, though, he became interested in biomedical engineering and nanotechnology. Through a series of transformations, including a stint as a student intern at Brookhaven Lab, he's spun those interests in to a possible future career potential with a big impact on energy.
"I had a strong background in biology, and I come from a family of engineers, so I applied to the biomedical engineering program at Stony Brook University," said Garlow. "I was really happy to be accepted to the Stony Brook program."
In addition to his regular Stony Brook classes, Garlow found a job as a research assistant in Professor Balaji Sitharaman's multi-functional nano and supramolecular biosystems lab. There, he focused on two successful projects involving carbon nanotubes, graphene nanoribbons, graphene nanoparticles, and graphene-anode microbial fuel cells. The project results indicated that microbial fuel cells produce 10 times the power output of commercially available fuel-cell anodes, which may lead to more efficient fuel-cell technologies.
But Garlow didn't only spend time in the classroom or lab. Soon after joining the student ranks at Stony Brook, he recognized the importance of helping underprivileged teenagers become interested in science and technology. He joined the school's Science and Technology Entry Program (STEP) and worked as a mentor preparing and guiding students to pursue careers in science and engineering. His outreach efforts also included helping students prepare for science competitions. Garlow also served as a judiciary working with the dean of students, faculty, and other student leaders on best practices for allocations of funds for student organizations.
Garlow's introduction to Brookhaven started in 2012 when he came to the Lab as an undergraduate intern with post-doc Javier Pulecio in Yimei Zhu's group in the Lab's Condensed Matter Physics and Materials Science Department (CMPMS).
"From then on, I was definitely hooked on science," said Garlow.
In 2013, Garlow stayed on as a member of Zhu's team through the U.S. Department of Energy's Science Undergraduate Laboratory Internship (SULI) program. Zhu's work suited Garlow's research interests perfectly.
"Joe had his research goals all lined up when we first met to discuss a mentorship," said Zhu, who is also an adjunct professor at Stony Brook. "He is extremely motivated and it took very little convincing for me to welcome him to our lab. He is a valued member of our team."
Along with Zhu and Pulecio, Garlow uses transmission electron microscopy and raman spectroscopy to explore the atomic structures and properties of precisely aligned graphene layers grown on nickel films. This research landed Garlow a spot as first author on a paper submitted to Scientific Reports.
"Doing hands-on research at the Lab has surpassed all of my expectations and has given me a solid background not just in the actual science, but how it feels to work on a team of scientists who are seeking knowledge and discoveries," said Garlow. "The experience is nothing short of amazing. I am grateful for this opportunity from Brookhaven's Office of Educational Programs and scientists at the Lab."
Currently working toward his Ph.D. at Stony Brook under the leadership of Zhu, Garlow says his current research focuses on charge, spin, and lattice correlations in layered materials such as perovskite oxides. These types of materials can display intriguing (and potentially useful) electrical and magnetic properties, including superconductivity, the flow of electrical current with no resistance; giant magnetoresistance, which renders a significant difference in electrical resistance depending on the alignment of magnetization within materials; and multiferroics, where intriguing, electronic and magnetic properties can be manipulated. These unusual properties may have significant implications in the emerging field of spintronics (a new type of technology which may revolutionize the future of computing), and lead to applications that will create faster and more efficient computers and new electronic and energy technologies.
"Being mentored by Dr. Zhu and the many other Lab researchers has given me an opportunity to fully discover how fascinating nanotechnology and physics can be, and how the work we do today impacts our future," said Garlow. "Brookhaven Lab's brilliant scientists and state-of-the-art equipment afforded me the opportunity to accomplish much more than I anticipated. I am already looking forward to more scientific adventures and discoveries that will make a difference in our world now and to future generations."
"For now, I am using most of my energy to focus on my studies and research," added Garlow. "But, perhaps in the future I will again have the chance to join my rugby friends on the field. Hey, a guy still needs to have some fun!" he said.
2015-5497 | INT/EXT | Newsroom