502nd Brookhaven Lecture on Wednesday, 2/25: 'Expanding Plant Oil Production: Learning How to Make Leaves Fat'
February 23, 2015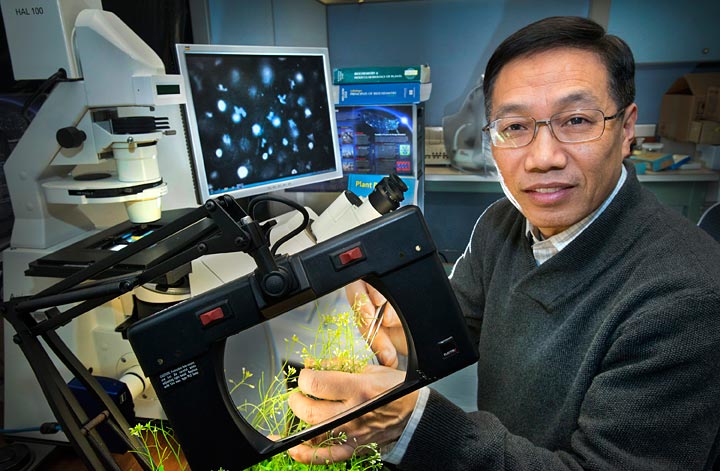 enlarge
Changcheng Xu of Brookhaven Lab's Biological, Environmental & Climate Sciences Department
In terms of energy density, you can get the same "oomph" from a gallon of fossil- or plant-based diesel fuel. The green-sourced version, however, can be produced from renewable, sustainable crops like switchgrass and sugarcane, which produce energy by absorbing carbon dioxide from the atmosphere. But there's only so much farmable land, so increasing the amount of crops grown for fuel reduces the amount space for crops grown for food.
Oil produced in plant seeds can only meet a small fraction of fuel needs, so scientists at Brookhaven Lab are exploring plant metabolism at the genetic level. In developing ways to "fatten up" plants for increased oil production in plant parts other than seeds—leaves, in particular—this research could lead to greater amounts of fuel produced from fewer acres of farmland.
Join Changcheng Xu of the Biological, Environmental & Climate Sciences Department for the 502nd Brookhaven Lecture, titled "Expanding Plant Oil Production: Learning How to Make Leaves Fat" in Berkner Hall at 4 p.m. on Wednesday, Feb. 25. All are invited to attend this free talk, which is open to the public. Refreshments will be offered before and after the lecture. Visitors to the Lab 16 and older must carry a photo ID while on site. Add to calendar
During his talk, Xu will discuss how he and his collaborators use biochemical and genetic analyses to identify important protein components that control plant oil synthesis, storage, and turnover in leaves. He will also discuss the potential biotechnological implications of efforts aimed at enhancing oil accumulation in abundant plants for renewable, carbon-neutral bioenergy production.
To join Xu for dinner at a restaurant off site after the talk, contact Nancy Barci (Ext. 7548 or barci@bnl.gov).
About the Speaker
Xu joined Brookhaven Lab in 2009, and has presented at conferences and workshops around the world. He has authored or coauthored more than 35 published papers, including two about increasing oil accumulation in plant leaves—one in 2013 and one in 2014—that were each named among Brookhaven Lab's annual lists of top-10 scientific achievements. Xu earned a Ph.D. in agricultural sciences from Shandong Agricultural University in China in 1996 and was a research scientist at the Chinese Academy of Science's Photosynthesis Research Center from 1998 to 2000. He was named a research associate at Michigan State University in 2000 and became a research assistant professor there in 2005. Xu became an assistant biochemist at Brookhaven Lab in 2009, and was promoted to associate biochemist in 2012 and biochemist in 2014.
2015-5541 | INT/EXT | Newsroom