503rd Brookhaven Lecture Wednesday, 3/25: Looking for Light From Dark Energy With the LSST
March 20, 2015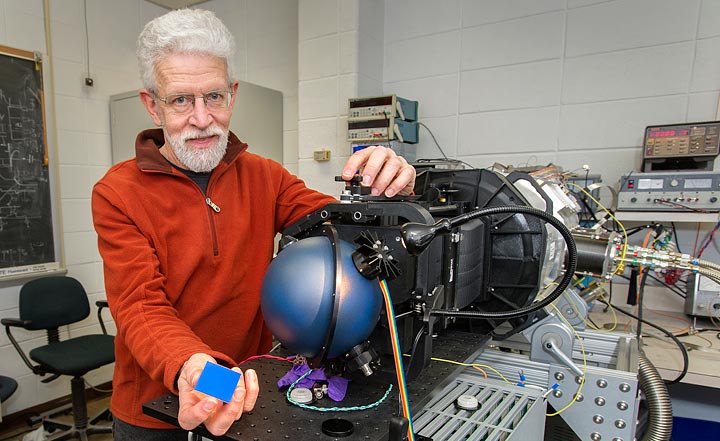 enlarge
Paul O'Connor with a 3D-printed prototype for the 3,200 megapixel sensor being developed at Brookhaven Lab for the Large Synoptic Survey Telescope
Thousands of years ago, people around the world kept detailed records of the moon and stars they saw in the dark night sky. In the last hundred years, astronomers discovered galaxies beyond our own and determined that the universe—with its moons, planets, stars, and other galaxies—was expanding. In 2011, the Nobel Prize for Physics was awarded to scientists who discovered that the universe's expansion was rapidly accelerating and now, scientists at Brookhaven Lab are part of a major collaboration hunting to understand more about why.
Scientists attribute the universe's accelerating expansion to "dark energy," something today they understand very little about. Work is underway among nearly 40 institutions and companies collaborating to build the Large Synoptic Survey Telescope (LSST), which will enable them to see the far reaches of the universe to learn more about dark energy by observing its effects in deep space. Outfitted with world's largest-ever digital camera—including a 3,200 megapixel sensor being developed at Brookhaven Lab—the LSST will capture light from stars 100 million times dimmer than the dimmest star visible to the naked eye and with a wide-angle view, so the entire night sky can be surveyed far more quickly than what's possible with other advanced telescopes today.
Join Paul O'Connor of the Instrumentation Division for the 503rd Brookhaven Lecture, titled "Looking for Light From Dark Energy: Building the World's Largest Digital Camera for the Large Synoptic Survey Telescope," in Berkner Hall at 4 p.m. on Wednesday, March 25. All are invited to attend this free talk, which is open to the public. Refreshments will be offered before and after the lecture. Visitors to the Lab 16 and older must carry a photo ID while on site. Add to calendar
O'Connor will begin his talk with a brief history of early efforts to document the night sky as well as basic overviews of digital imaging technology and the discoveries that provided early evidence of the universe's dark energy and dark matter. He will then explain the ambitious performance goals for the LSST and ongoing efforts at the Lab to ensure that technological challenges are met. O'Connor will also describe proposals for a new generation of imaging sensors for future astrophysical exploration.
To join O'Connor for dinner at a restaurant off site after the talk, contact Barbara Gaer (Ext. 4231).
About the Speaker
O'Connor is a senior scientist and associate division head for the Instrumentation Division at Brookhaven Lab. He attended Brown University, earning a master's degree in electrical engineering in 1977 and a Ph.D. in physics in 1980. He joined AT&T Bell Laboratories as a member of the technical staff in 1980 and arrived at Brookhaven Lab's Instrumentation Division in 1990. He is an author on more than 85 publications and has seven patents for microelectronic and detector technologies.
2015-5574 | INT/EXT | Newsroom