GEM Fellow Luis Ocampo Giraldo Takes Third Place in National Tech Competition
August 21, 2015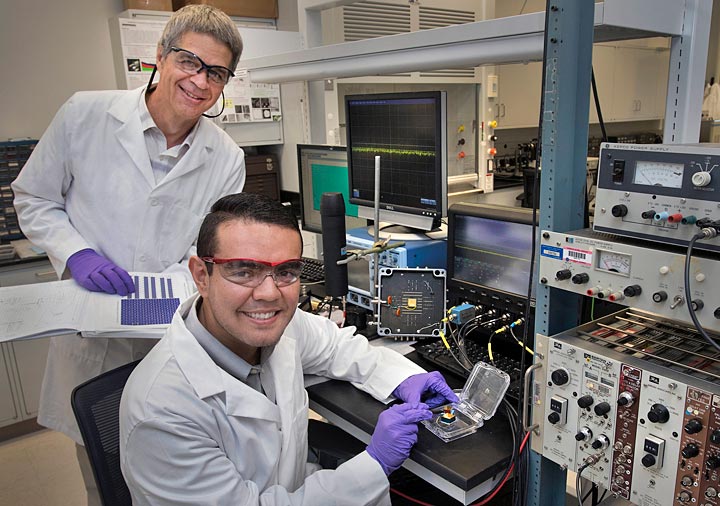 enlarge
GEM Fellow Luis Ocampo Giraldo (front) spent the summer working with Lab researchers Ralph James (missing from photo) and Aleksey Bolotnikov on detector development that may lead to future national security and medical applications. Ocampo Giraldo's work earned him third place in the national GEM Fellow Technical Presentation Competition.
Luis Ocampo Giraldo says he felt like he hit the jackpot when he was selected to participate in the Lab's GEM program. (GEM stands for National Consortium for Graduate Degrees for Minorities in Engineering and Science, Inc.) Founded in 1976, GEM has graduated more than 3,000 researchers, professors, entrepreneurs, inventors, and business leaders, with doctorates in the physical sciences, life sciences, and engineering.
"This is my third summer at Brookhaven and the experience has been more than I ever hoped for," said an enthusiastic Ocampo Giraldo. "Gaining hands-on research experience with renowned researchers at a world-class institution like Brookhaven Lab is the best way for me to start my career."
Ocampo Giraldo spent the summers of 2013 and 2014 working in the Lab's Nonproliferation and National Security Department on nuclear safeguards under the mentorship of Susan Pepper when he was an intern with GRIP (Graduate Research Internship Program), a program coordinated by the Lab's Office of Educational Programs and supported by Brookhaven Lab mentors through their research Programs. Ocampo Giraldo's work was funded by the National Nuclear Security Administration.
This summer, Ocampo Giraldo worked side-by-side with Lab researchers Ralph James and Aleksey Bolotnikov learning techniques for developing and testing pixilated cadmium zinc telluride detectors that can be used for national security and medical applications.
"The work we have done this summer was extremely tedious and challenging," said Bolotnikov. "Luis was very patient and stayed focused on the work, which led to significant advances in detector development."
Bolotnikov added that two Science Undergraduate Laboratory Internship (SULI) students, Soren Chen and Ryan Gallagher, were also part of the summer student team and took measurements for the construction of the detectors.
But a highlight of the summer came when Ocampo Giraldo presented his work at the annual GEM Fellow Technical Presentation Competition and won third place in the national contest. The student competition showcases the technical and research assignments of summer interns. Each competitor gave a 10-minute presentation and then answered questions from a panel of judges representing the National Science Foundation, GEM employers, and GEM university members.
Terrence Buck, a principal human resources representative in the Lab's Human Resources Division, is the program manager for the GEM program and also serves as a member of the executive board. The GEM program is administered through Human Resources and the Diversity Office. In addition to recruitment, Buck works with the young researchers to make sure they are having a full experience at Brookhaven, including social activities.
Born in Colombia, Ocampo Giraldo came to the United States 15 years ago. He is pursuing a Ph.D. in nuclear engineering at Pennsylvania State University and hopes to work in the field of international nuclear safeguards and security.
"This has been an extraordinarily successful and exciting summer for me," said Ocampo Giraldo. "In addition to working at the Lab, I also officially became a United States citizen last week making this a summer I'll never forget. I especially want to thank Terrence Buck for recruiting me for the GEM program, and Dr. James and Dr. Bolotnikov for taking time from their busy schedules to mentor me and provide me with the opportunity for hands-on research experience that will serve as a building block of my career."
Ralph James, known around the world for his work on detector development and applications, said that Luis was a perfect fit for their team. "He was passionate about his work, was a quick learner, and I am happy that he was recognized for his outstanding accomplishments," said James. "I have no doubt he has a bright future ahead of him."
For more information about GEM, check the Diversity Office website.
2015-5884 | INT/EXT | Newsroom