Postdoc Alesha Harris: Tackling Chemistry from Nanoparticles to Neutrinos
November 24, 2015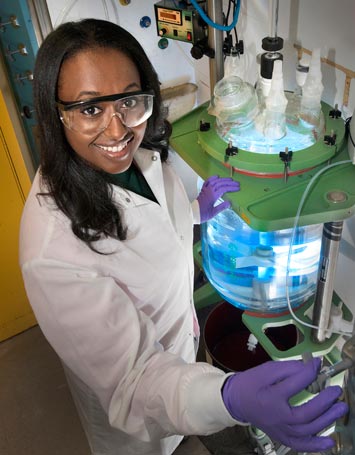 enlarge
Alesha Harris
Alesha Harris has three degrees in chemistry and has taught the subject in her home state of Texas. Although her graduate work was in nanoparticles—materials just a billionth of a meter in size—she joined the U.S. Department of Energy's Brookhaven National Laboratory as an Alliance for Graduate Education and the Professoriate–Transformation (AGEP-T) postdoc working with Minfang Yeh, who leads the neutrino and nuclear chemistry group. Before becoming acquainted with Brookhaven Lab and Yeh's work, Harris had never heard of the mysterious neutrinos, invisible subatomic particles.
"In all of my years of study, education, and books, I had never heard of them," Harris said. "It's not something that they taught in any of my classes. So it was very ambitious of me to take this on, just like it was ambitious of Dr. Yeh to take me on. Nonetheless, he emphasized that he wanted someone who was less familiar with the area who could bring fresh ideas."
Harris comes from a family of high achievers. Her father is a CPA, a college vice president for Business and Finance, as well as a preacher. Her mother is a dentist and recently retired from the US Public Health Service, where she oversaw the quality of health care in 11 states. Harris' grandfather was a physicist, an architect, a pilot, and a mathematician.
"I have an uncle who is a lawyer, an aunt working on her PhD in human resources and a cousin who is an archaeologist and speaks Hebrew fluently," said Harris. "In our family, we go for the opportunity and we work at it."
Her career in science is a result of Harris pursuing an earlier goal.
"When I was younger, I wanted to be a fashion designer," she said. "So I took sewing classes and I drew all the time. Somewhere along the way I thought that in order to be a fashion designer, you're probably going to have to have some money, so you should use your other skills to help you get financing. "
Harris credits a high school teacher with fostering her love of chemistry.
"She really made me enjoy it," she said. " I had to work hard like everybody else but there was something about the way she taught that made me feel success at the end of solving a problem."
As an undergraduate at Dillard University in New Orleans, Harris majored in chemistry with a minor in math. She did her graduate work – earning a MS and a PhD in inorganic chemistry — at the University of North Texas.
"My research was on nanoparticles for targeted drug delivery," she said. "We used polymers to create nanoparticles as carriers, and our drugs of choice were transition metals. I worked with pancreatic cancer cells as well as cervical cancer cells and I did a variety of experiments from the synthesis and analysis of the nanoparticles and loading of the metals to the toxicity studies. So I learned a lot by doing all those different things, and I think that made my resume interesting to Dr. Yeh."
"The study of neutrinos is in a precision era that could use a lot of help from chemistry for the development of the next-generation detector, " said Yeh. "I enjoy working with young scientists because of their fresh minds and creativity. Alesha has great passion for science and loves to learn. I am happy to have her joining the group."
Yeh's group at Brookhaven works with liquid scintillators for the detection of the elusive neutrinos, and is experimenting with surfactants to generate stability in a new and improved metal-doped scintillation water.
The AGEP-T program aims to prepare its participants for a possible teaching career, something Harris has already experienced. After receiving her PhD, she taught general chemistry at a small historically black college in Texas.
"Most of the students I had were only familiar with chemistry at a very basic high school level," she said. "I think I was able to teach them ways to learn chemistry. I think that's one thing that should be taught more: how to study."
Harris also taught the math portion of the Graduate Record Examination and helped interest students in science and technology careers. She became aware of Brookhaven's AGEP-T program through networking at conferences.
"I really appreciate that the program emphasizes mentorship," she said. "I know that Dr. Yeh is one of the best in his field, and I like the fact that I can attend conferences, go to seminars and have a group of people who are trying to develop me professionally not just scientifically. Since I've been here, I've been able to learn to use more instruments than I did in graduate school and I'm looking forward to punching out papers.
"I love health, it's still my passion," she said. "The skills that I learn here can be used in many areas of science, including health research. Although, maybe I will just fall in love with studying neutrinos! I'm still young and have time to change my mind, but at least I'm here and learning from the best."
In addition to her work in the lab, Harris is involved with numerous outside activities. She plays volleyball — on and off campus—and is part of the sorority Alpha Kappa Alpha. The group focuses on community service, and before the school year began, they assembled backpacks for elementary, middle and high school students. She also recently joined Toastmasters.
"I think I can do a good job taking difficult information and making it a little bit easier to digest for decision makers. Given that as my goal, I'm ready to start working on the craft of speaking. I'd like to be a science liaison, the person who explains science to decision makers and community members."
Brookhaven National Laboratory is supported by the Office of Science of the U.S. Department of Energy. The Office of Science is the single largest supporter of basic research in the physical sciences in the United States, and is working to address some of the most pressing challenges of our time. For more information, please visit science.energy.gov.
2015-5990 | INT/EXT | Newsroom