A Broader Perspective: Brookhaven Lab's Smart Grid Collaborations Go International
June 10, 2016
Around the world, countries are expanding their use of modeling, simulation, testing, analysis and other tools to support the development of smarter, more reliable and resilient electricity systems. The United States Department of Energy (DOE) has embarked on an ambitious Grid Modernization Initiative (GMI) to meet current and emerging grid challenges. Several years ago, Korea established a smart grid vision through 2030. India operates one of the largest synchronous grids in the world, serving more than 200 million customers, and has set an ambitious goal of extending "24x7" electricity to all of its 1.2 billion people by 2019. These were just a few of the global initiatives discussed during a recent electric grid workshop at DOE's Brookhaven National Laboratory.
Brookhaven has been in the forefront of efforts to partner with utilities, regulators, industry and other national labs and universities to develop and integrate technologies and practices enabling modernization of the electric grid into a "smart grid." Twice a year since 2011, the Lab has hosted two-day workshops to better acquaint participants with some of the challenges and best practices in smart grid technology. Over the years, the focus has widened from New York State to regional and now international perspectives. At the fall 2015 meeting, participants included representatives from Nigeria and Korea, adding international views.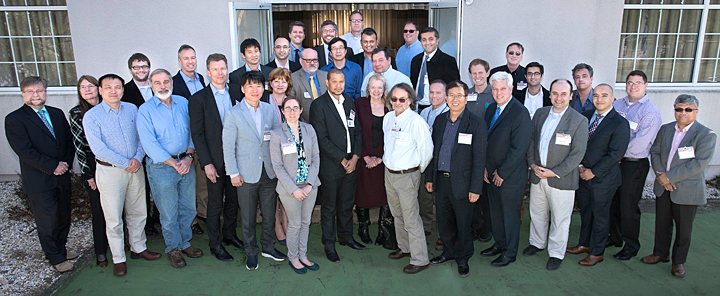 enlarge
Some of the participants at "Tools for the Smarter Grid"
The spring 2016 gathering –Tools for the Smarter Grid – was co-organized by the International Smart Grid Action Network (ISGAN) Annex 5: Smart Grid International Research Facility Network (SIRFN), which brings together world-class testing and research facilities across more than a dozen countries in Europe, North America and Asia. The event featured presentations from South Africa, the Netherlands, and Austria, as well as participation from four U.S. national laboratories, several utilities, environmental groups, technology vendors and research facilities in Korea and Romania.
The workshop program was divided into several sections. One part focused on modeling simulation tools, including examples of the tools that are available and where there may be gaps or opportunities where DOE or ISGAN should focus their smart grid efforts. Another section offered discussion on the policy challenges, both programmatic and institutional, that inform the development and use of grid tools. The last major section focused on looking ahead to where collaboration has started to yield positive results.
"Brookhaven wanted to expand the international aspect of the meeting, share that community's experience with our colleagues in New York and the Northeast, and exchange ideas and lessons learned," said Stephanie Hamilton, Brookhaven Lab's Smart Grid program manager.
Russ Conklin, a senior policy analyst with DOE's Office of International Climate and Clean Energy and vice chair of ISGAN's Executive Committee, set the scene on the international side with a quick tour of the world covering other nations' key interests and efforts on smart grids and grid modernization.
"The focus of this workshop is to highlight emerging smart grid tools that are now being applied domestically and abroad and raise interesting questions about the collaborative opportunities that could result from sharing knowledge of these tools at the workshop and beyond," he said. "The objective is not only to inform our international guests about the many activities and opportunities underway in the U.S. but to give the U.S. participants a better understanding of the great work that's happening in other countries and could potentially have value here."
ISGAN bring together 24 countries and the European Commission, spanning the globe with the exception of South America, which Conklin referred to as its "biggest gap" and a key target for future outreach. The network is an International Energy Agency Technology Collaboration Programme and an initiative of a broader process called the Clean Energy Ministerial, which was created by DOE in 2010 to bring together the world's largest and most forward leading countries to accelerate the transition to clean energy.
In his presentation, Conklin shared examples from several ISGAN countries. "Japan had a major earthquake and nuclear disaster that led to the shutdown of all of its nuclear facilities, which are only now slowly coming back online," he said. "They do not have a lot of natural resources, so conservation and energy efficiency are very important. They also hope to take renewables to a quarter of the system by 2030, from a fairly small fraction now. So, they are placing a big bet on smart grids and smart communities as a key tool to help them achieve their energy objectives."
Conklin noted that Germany has had tremendous amount growth in renewables, both wind and solar photovoltaics (PV) over the past several years, but thus far hasn't relied on smart grid as much as hardening existing infrastructure. Nevertheless, as the share of renewables and corresponding need for grid flexibility increases, Germany has a "growing interest in taking a closer look at smart technologies." Interest in solar PV has taken off in Italy—showing even faster growth recently than in Germany—so the Italians are beginning to focus on smart energy storage options to add needed flexibility to their system. Mexico's electricity system is undergoing a tremendous transition through major government-led energy reforms that are restructuring the Comisión Federal de Electricidad, its state-owned electric utility, to introduce more competition and create an independent system operator. As part of this reform, Mexico is actively pursuing the development of smart grid systems to enhance system performance, improve revenue protection, and enable integration of greater shares of renewables.
Gil Bindewald from DOE's Office of Electricity Delivery and Energy Reliability set the scene domestically, detailing the GMI and the corresponding Grid Modernization Laboratory Consortium, including some of the 11 ongoing regional partnerships being supported by the DOE and its National Laboratories.
"In Alaska, the question is how to provide affordable electricity to remote areas that are now served by more than 50 percent diesel," he said. "In Kentucky, a project is focused on industrial microgrids and how to make a microgrid part of a business case from an industry viewpoint. In Vermont, the researchers are looking at energy storage and controls. In Idaho, it's smart grid reconfiguration, especially on the distribution side.
"A Hawaii partnership is focused on distributed energy resources and how to use smart inverter capabilities in a way that enhance system performance," Bindewald said. "The California effort is enabling innovation and transformation through enhanced design and planning tools. In New Orleans, where storms can disrupt delivery of electricity, a project focuses on how to use the generation and load in a way that helps cost-effectively improve resiliency."
Bindewald explained how DOE's recent Quadrennial Technology Review "reinforced the notion that if you look at a variety of energy solutions, the electric grid is key – an enabler to accomplishing the goals."
Grid modernization, he said, is a primary focus.
"Often consumers' understanding of this is not clear until there's a storm that disrupts service," he said. "How do we create a system that's more reliable and affordable and meets the demand of emerging global technology and energy needs while also recognizing that the grid's success happens when it's invisible?"
Another key issue is the value proposition for staged investment: how do planners translate grid resiliency, reliability and flexibility into quantifiable metrics, and position the power system to handle the energy demands of the future?
"In what ways can we help decision makers think about their emerging needs and understand the alternatives that might be considered?" Bindewald added. "Capturing the uncertainty and complexity coming from this evolving system is a challenge. This requires a plan, a vision, and broader stakeholder participation and feedback."
The meeting concluded with a tour of the Long Island Solar Farm and the Lab's Northeast Solar Energy Research Center.
Despite the international flavor of the event, workshop organizers stressed that the series will continue to examine programs and strategies being employed in the United States.
"This workshop was not intended as a major shift in focus. Rather, it was an attempt to broaden perspectives a bit, trying to take in a greater view of the opportunities, the needs, the solutions, the questions on smart grids that we're all asking and for which we're all, right now, seeking answers," Conklin said. "I think it also showed the value that international expert networks, like ISGAN and SIRFN, can offer. Hopefully, participants took away the clear opportunity and commensurate need to cooperate together as we pursue our common grid objectives."
The Smart Grid initiative is supported by the DOE's Office of Electricity Delivery and Energy Reliability (OE). More information is available at http://www.energy.gov/oe/office-electricity-delivery-and-energy-reliability.
2016-6273 | INT/EXT | Newsroom