Meet Rich Casella
June 16, 2008
Rich Casella, a computer programmer in BNL's Information Technology Department, subscribes to the outdoor-lover's familiar adage: "Take only pictures and leave only foot prints." Only Casella doesn't leave footprints, he leaves tire tracks.
Casella, who has worked at BNL for 29 years and earned a Master's degree in computer science, is an avid off-road enthusiast who drives his Toyota FJ Cruiser where sedan owners dare not tread. "Off-roading" involves driving and maneuvering a vehicle along unpaved terrain through mud, muck, and even snow, climbing and descending trails often strewn with rocks and boulders.
Rich Casella with his Toyota FJ Cruiser.
Casella wanted a Jeep, dune buggy, or Land Cruiser for off-roading ever since he surfed the South Shore of Long Island in the 1970s. After experiencing motor trouble with his first Land Cruiser, he saw a Toyota concept car that would become the FJ Cruiser. Right away, Casella knew that this new truck was designed and built to conquer the off-road terrain he had in mind. "I used to call the Toyota dealer asking when could I order it and when could I have it?" Casella recalled. In March of 2006, Casella's new truck arrived and he immediately took it off-roading.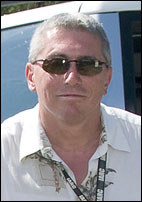 Rich Casella
Gotham City Land Cruisers is a New York-based club for those involved in off-roading. Casella is one of its more than 50 enthusiastic members. He attends several club excursions during the year and also uses his computer programming expertise to manage the club's Web site, www.gclcny.com. The site contains news, event listings, and a list of preferred vendors, in addition to member contributions such as photos from previous events, technical advice, classifieds, and many other resources.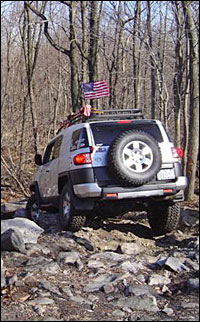 Casella primarily travels to upstate New York and Rausch Creek Off-Road Park in Pennsylvania for two- or three-day off-road excursions. A regular excursion includes driving, camping, and repairing. One of Casella's friends broke a truck's front- end while "crawling" through a rocky riverbed. Casella recalled, "We ended up bolting his steering mechanism to a log for support and then it took three hours to tow his truck out." After a day of driving, he said, "repairs start at night. The people are great. They bring spare axles and other parts and welders fix up everybody at the camp site."
As a computer programmer, Casella customizes and modifies computer systems to complete specific tasks in specific environments. Similarly, Casella customizes and modifies his truck to handle conditions in environments that would lead most drivers to park and walk the rest of the way. Since its purchase, Casella has raised his truck's body three inches and installed rock-rails and skid plates-modifications that protect the truck's vitals and body from natural obstacles that could render the truck a wreck. "The truck is just about where I want it to be," Casella stated with a smile.
Casella drives his FJ Cruiser, his only vehicle, with confidence for both weekend adventures and work during the week. That means there's no time for down-time. "It's an expensive habit," he added, "but it's a great day in the woods."
Think you or one of your colleagues has a good story to tell? Email us! Although we can't write about everyone, we would love to hear your ideas and suggestions.
2008-628 | INT/EXT | Newsroom