Graduate Student Eric Metodiev Finds Freedom and His Voice in Physics
August 22, 2016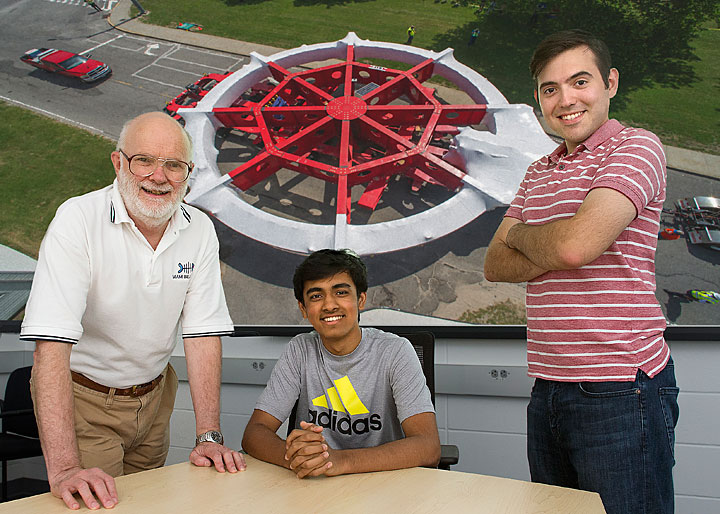 enlarge
Mentor Bill Morse, left, with two of his mentees: Eric Metodiev, right, and high school student Rushab Mehta
Between the ages of 4 and 9, Eric Metodiev says he didn't talk much.
"I was selectively mute," he said. "I spoke to my parents, certain relatives and some peers but I did not speak to teachers much or at all. I don't know why that is, but my first impression is to not speak. So when I do, it's typically a selective set of words."
For the last half dozen years at Brookhaven, those words have taken the form of questions about the laws of physics. Nearly every summer since 10th grade, Metodiev, now 22, has participated in educational programs sponsored by the U.S. Department of Energy's (DOE) Brookhaven National Lab. He graduated from Harvard in May with a joint degree in physics and mathematics and will start graduate work at MIT this fall, but has already had the opportunity to make a real contribution in his chosen field.
"I'm more theory than experimentally inclined," he said, "but there's a lot of freedom here. It's a very open field and you can ask any sort of question."
Under the mentorship of Bill Morse in the Physics Department, Metodiev has worked for the past four years on the Muon g-2 experiment, studying the properties of muons, tiny subatomic particles that exist for only 2.2 millionths of a second. The actual experiment will take place over the next few years at Fermilab in Illinois, using the massive electromagnetic muon storage ring at the heart of the original g-2 experiment at Brookhaven that was transported to Fermilab by barge and truck three years ago.
The son of Bulgarian engineers who came to the U.S. in the 1990s, Metodiev credits his parents for sparking his interest in physics.
"I think I picked up from them that the quantitative fields are something that lets you do interesting things," he said.
He became involved in Brookhaven's Community Summer Science Program while attending West Islip High School.
"It was great," he said. "That's why I kept coming back. They do a great job of giving you a lot of fundamentals in physics, chemistry and biology and highlighting the importance of research. Every day would be a different project, not research but a lot of the toolkits.
"In high school, they have a curriculum that somehow leaves out a lot of the 20th century at least in terms of physics," he said. "They don't talk about quantum mechanics or general relativity, just how fast does this ball roll downhill? I really had no idea what the landscape of physics was until I came to Brookhaven. When physicists gave talks, they were about particles that decay in various ways and what you measure and what that tells you. I saw what I now understand physics to be.
That's what motivated me to apply for the High School Research Program."
In recent years, Metodiev has been participating in the Supplemental Undergraduate Research Program (SURP), an internal Brookhaven program created to support programs under DOE's Office of Workforce Development for Teachers and Students within the DOE Office of Science. SURP is funded by the mentor or the National Science Foundation. Under the supervision of Morse and his Physics Department colleague Yannis Semertzidis, Metodiev and a handful of other lucky students performed simulations and did other research and analytical work on the muon g-2 experiment.
"That first summer, I was involved in the rediscovery of an important effect in the g-2 experiment," he said. "The muons in the ring don't all have the same energy. If it's a high energy particle, it will live longer and if it's a low energy particle, it will decay earlier. We are working on this differential decay effect. It can take you in many different directions, it's a lot of fun."
"After we rediscovered this important effect, we realized that it had many manifestations and it was very interesting," said Morse. "This kind of research is a collaborative effort with lots of give and take, but I would say that Eric contributed as much or more than anyone else, including me!"
Semertzidis is now based in Korea, and Metodiev spent one summer there, still focused on the g-2 experiment. In the long term, Metodiev is leaving his future open, but he is determined to continue to be part of the g-2 experiment.
"I certainly want to continue being involved until the experiment occurs, even if it means going to Fermilab in some capacity," he said. "I want to see it through and know the result."
Metodiev is grateful for the educational opportunities he received at Brookhaven.
"I'm glad to have gotten the chance to get paid to do interesting research and really sink my teeth into a topic," he said. "I think it's been very fruitful for me, in terms of my education, and I hope I've contributed something to the experiment."
2016-6514 | INT/EXT | Newsroom