Meet Vicky Giese
July 7, 2008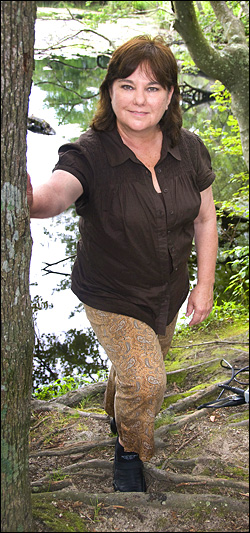 Vicky Giese, a BNL Office of Educational Programs summer student, knows it's never too late to start something new. Giese, who has already raised four boys, returned to school to complete an undergraduate degree in cellular biology after her youngest son graduated from high school.
"I went through a traumatic divorce and decided to use that as a catalyst to bring about a positive change in my life," she said.
Giese first completed pre-requisite courses and two years of undergraduate work at Allan Hancock College, the junior college in her hometown of Santa Maria, California. She was recently accepted to California Polytechnic University of San Luis Obispo and will start there as a junior in the fall.
Completing an undergraduate degree as a returning student initially seemed insurmountable to Giese, but she persevered.
"When I first went back to school and saw my student education plan, I nearly fainted because there were so many courses," she said. "I thought to myself, 'There is no way I can do this.' Every semester, I still surprise myself."
Since returning to school, Giese has received 18 scholarships and has participated in two internships (including this one at BNL). She has also succeeded at adjusting to a new social environment at school.
"When I first started school it was tough learning how to fit in socially with students who viewed me as a mother figure," she said. " I now see this as another wonderful adventure and remind myself that because of my life experiences I have a lot to contribute and share."
Fortunately, Giese's enthusiasm and outgoing personality make it easy for her to make friends.
"I get involved in everything I can think of," said Giese, who, while at Allan Hancock, was an officer and a member of the Society of Chicanos and Native Americans for Advancement in Science.
"Choosing to study cell biology was a natural choice," Giese said. "All of the intricate mechanisms of cell functions fascinate me," she said. She spent the summer of 2004 in the chemistry department at the University of California, Santa Barbara, doing cancer research.
This summer, Giese is changing gears and focusing on environmental research. As a Department of Energy Science Undergraduate Laboratory Internship (SULI) student, she is working with Tim Green, the Cultural & Natural Resource Manager at BNL. Giese is correlating invertebrate distribution with water quality throughout Long Island's Carmans River. These aquatic invertebrates, which provide food to other aquatic species, are currently threatened by development and water contaminants. She plans to identify specific areas of concern along the river, which will help plan mitigation projects that will lessen environmental threats to the river's pristine ecosystem.
"This is a dream come true," Giese said. "Given this opportunity to have an internship here at Brookhaven is truly the opportunity of a lifetime, which I know will impact my future in a positive way. When I saw the microscope in the lab that I would be using, my heart fluttered with excitement. I never imagined that I would have the opportunity to work with technology this amazing."
After she finishes her undergraduate degree, Giese plans to attend graduate school, but she is not sure what she wants to study yet. "I have a passion for adventure and discovery so research is something that I love," she said. "I have always enjoyed being outdoors and this experience will help me have a better understanding of the environment and the intricate role it plays in the health of the animals that live there. This internship is an opportunity to broaden my horizons in science." For more information about the SULI program and the other internships offered through BNL's Office of Educational Programs, click here.
Think you or one of your colleagues has a good story to tell? Email us! Although we can't write about everyone, we would love to hear your ideas and suggestions.
2008-762 | INT/EXT | Newsroom