Sharing the Road With Larry Hoff
March 24, 2009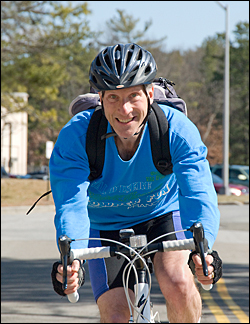 Larry Hoff
Some people enjoy driving to work; others prefer not to. Brookhaven's Larry Hoff is of the latter group. Although 13 miles separate the Lab from his home in East Patchogue, this group leader in the Collider-Accelerator Department commutes throughout most of the year via bicycle.
"The bike ride is a half hour longer than driving - but I really like riding the bike," Hoff explained. "There are lots of secondary reasons I'd rather ride my bike rather than drive: saving money by not buying gas, environmental reasons, staying in shape. But the main reason I ride is because I really like riding a bike."
Hoff began riding his bike to work when he first started work at the Lab 24 years ago. Now that his children are older, Hoff commits to a bicycle commute throughout the entire span of daylight savings time, from March until November each year.
"I only ride to and from work during daylight savings. I have no interest in riding home in the dark, I don't feel safe doing it," said Hoff. In fact, he travels by car whenever safety is an issue - for example, in the rain. Hoff also wears a helmet each time he mounts his pedal-powered steed.
(from right) Larry Hoff with fellow C-AD bicyclists Sev Binello and Seth Nemesure.
Hoff is eager to spread his enthusiasm and love for bike riding. Each week, he rallies fellow C-AD bicyclists during their lunch break on Fridays for an hour-long ride - which is usually another 25 miles in addition to his daily 26-mile commute. "I hope BNLers realize how supportive the Lab is of bicycle commuting with the plentiful amount of bike racks and showers available on site," Hoff added.
So as the sun shines longer each day and you begin thinking about exercising or saving some gas money, think about riding a bicycle - whether it be to work or the corner store. Remember Larry Hoff clocking in more than one hundred miles each week, and share the road if you are driving and see him or other bicyclists riding along.
Thinking about riding a bicycle to work? Larry Hoff has some advice:
Plan your travel route in advance; use roads with less traffic and wider shoulders.
Learn to fix a flat tire on road; get a tire repair kit and air pump.
Get the cell-phone number of a sympathetic co-worker, in case you get stuck.
Bring work clothes to the Lab in advance so you don't have to carry them each day.
Pay attention while you ride. Don't listen to music, although audio books and podcasts still allow you to hear traffic.
Think you or one of your colleagues has a good story to tell? Email us! Although we can't write about everyone, we would love to hear your ideas and suggestions.
2009-851 | INT/EXT | Newsroom