Meet Ondrej Chvala
October 27, 2008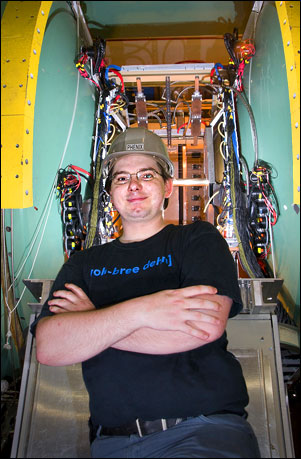 Ondrej Chvala at the PHENIX detector.
When many of us think of a vacation, we dream of white sandy beaches and palm trees. But when Ondrej Chvala thinks vacation, he pictures North Dakota.
"You can hear the streams bubbling, not cars driving down the street," Chvala said of camping in North Dakota.
Chvala, a postdoc on Brookhaven's PHENIX experiment at RHIC, loves traveling and hiking in the mid- and northwestern United States. He was even married just outside of Theodore Roosevelt National Park in N. Dakota.
Having spent time camping since age seven in the southwest region of the Czech Republic (then Czechoslovakia), Chvala also enjoys the freedom and beautiful landscapes he finds in Nebraska, Wyoming, Montana, Utah, Idaho, and Colorado.
"The only thing missing used to be an Internet connection," he said. "Of course, they have that now, so I will sit in the forest with my laptop."
On these adventures, Chvala has learned about the regional history and is especially fascinated by the details available on Native American societies prior to metallurgy, including how they built shelters and used buffalo efficiently. He explained that these historical details would have been lost without archaeological scientists because the land was later settled by cultures that used metals, such as copper, bronze, and iron.
Chvala has spent hours in the visitor center of Grand Teton National Park. There, he especially liked that they provide patches of cougar and grizzly bear fur for visitors to feel, since one cannot pet those animals.
At RHIC, Chvala works for the University of California, Riverside on detector simulations and collision analysis. He also serves as president of Brookhaven's Association for Students and Postdocs.
Chvala hopes to travel to more parks in the United States, including New York's Catskill and Adirondack parks.
"The wonders of nature are spectacular," he said. "There is fascinating history you can learn here."
2008-853 | INT/EXT | Newsroom