Two BNLers Go Up the [Hudson] River
September 22, 2008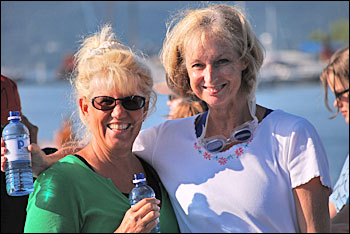 Dwyer and Tuohy
If you have ever used the Lab swimming pool, there is a good chance that you know Susan Dwyer and Kathleen Tuohy. Dwyer has been the Lab's lead lifeguard for 18 years and Tuohy has routinely used the pool since she began working at the Lab 34 years ago. The two have known each other for quite some time, but recently they decided to be "buddies" for the 5th Annual Hudson River Swim.
The one-mile swim from Newburgh to Beacon is a fundraiser to support the continuing cleanup of the Hudson River and provide lifeguards and routine maintenance at the "riverpool." The riverpool is a partially submerged pool in the Beacon section of the river that offers a fantastic view of the Hudson. It allows river water to pass through while protecting swimmers from boats and river currents, allowing safe swimming conditions for people of all ages.
After reading an article about the fundraising swim, Dwyer mentioned the idea of participating to Tuohy, "and the next thing I knew, Kathy had signed us up," Dwyer said. They were both a little reluctant about swimming in open waters, but then learned swimmers would be guided in the river by kayaks. "That made us feel better," said Tuohy. "When you're swimming long distance, it's easy to lose direction." So Tuohy convinced her husband Dennis to be a kayak guide and BNLer Sheryl Carey volunteered as the second kayak guide. "We were all set," said Dwyer. "But we were still a little on edge. The morning of the swim, we went to the starting point, saw the sunrise over the river and all of our fears were quenched. Kathy and I just looked at each other and without a spoken word, we both knew we had made the right decision to raise funds to support the riverpool and the cleanup effort."
Surveying the Hudson
Tuohy agrees. "After the sun came up we started to see kayakers, all wearing different colored hats, coming across the river. Then, when I met veteran musician Pete Seeger, who has been a leader of the Hudson cleanup campaign since 1979, and I heard him sing, it sealed the deal. Seeger's voice was the final inspiration I needed to put on my bathing suit and cap," she said.
This was the first time the two women participated in this type of event together but they both say they are committed to future fundraising swims. On the horizon is a three-mile swim scheduled next September in Sleepy Hollow, NY. That event will raise funds for lymphoma and leukemia patients.
"It's a win-win," said Tuohy. "Swimming helps to keep us healthy, Susan and I have fun training together, and we raise funds for worthwhile causes."
For more information on the Hudson/Beacon riverpool go to: www.riverpool.org.
2008-867 | INT/EXT | Newsroom