Technologies Available for License
2020-001: An improved low-gain avalanche diode (LGAD) device
Invention: 2020-001
Patent Status: Application Number US 2023/0065356 A1 was published on March 2, 2023
For technical and licensing related questions, email tcp@bnl.gov.
Summary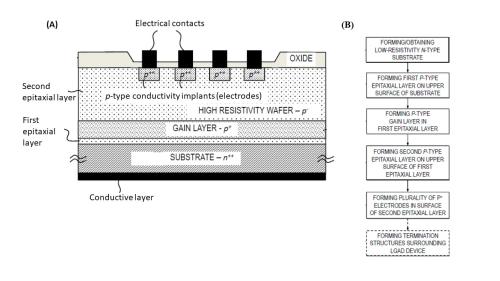 Low-gain avalanche diodes (LGADs) are a class of silicon sensors that have attracted attention, for their fast-timing properties and low-noise. However, a disadvantage of conventional LGADs is that they generally do not allow for fine patterning of electrodes (e.g., electrodes are spaced at least about 1 millimeter apart); attempts to design electrodes having closer spacing results in a loss of active area (i.e., fill factor). This invention describes a method of fabrication of a novel LGAD device structure having closely spaced electrodes configured to provide fine-pixel low-energy signal detection.
Description
A portion of a sample LGAD device that achieves superior performance and employs a substantially simplified fabrication process is shown in the Figure (A). A flow diagram (Figure (B)) showing the method steps for fabricating the LGAD device. The LGAD is fabricated on n-type substrates and has the gain layer close to the interface between the handling wafer (substrate) and the active silicon (i.e., epitaxial layer). The second epitaxial layer is formed having a thickness of about 50 µm. This distance provides sufficient spacing between the gain layer and device electrodes (on an upper surface of the device), so as to provide uniform gain. For a substantially uniform gain, a depth of the junction between the n-type substrate and the p-type gain layer should be much greater (e.g., a factor of 3) than a gap between electrodes. Overall, the device fabrication process is extremely simplified, so a fast and low-cost production is possible.
Benefits
The potential benefits of an LGAD device formed according to this invention include, i) an LGAD device having superior performance characteristics, such as, uniform gain layer that amplifies the initial charge generated by the ionizing event by a factor of a few tens, ii) fine-pixel low-energy signal detection, iii) device manufacturing is compatible with standard CMOS monolithic fabrication process, and iv) LGAD device can be easily integrated with other CMOS devices and circuits.
Applications and Industries
An integrated circuit proposed in this invention can be employed in essentially any silicon sensor application and/or electronic system, such as, low-energy particle detection systems, etc.
Journal Publication & Intellectual Property