At the center of our brand identity system is the logo. It is the simplest representation of our brand encompassing who we are, what we do, and how we're different.
Logo
Bold colors make a visual statement, emphasizing our impactful trait. When applied to the shape of the logomark these colors form a dimensional cube alluding to the building blocks of science and illustrating our curious and visionary nature.
The lowercase "b" seen in white is also an abstract rendering of a beamline at the National Synchrotron Light Source II, while the outer perimeter echoes that of the Electron-Ion Collider.
Our logo is comprised of two parts: the logomark and the logotype. This allows for more flexible use, including for websites and social media.
Download RGB Color Logos
RGB (Red, Green and Blue) is the color space for digital images. Use the RGB color mode if the logo will be displayed on a screen.
Download CMYK Color Logos
CMYK (Cyan, Magenta, Yellow, Key/Black) is the color space for printed materials. Use the CMYK file format if the logo will be printed with physical ink.
Black, Grayscale, and White
The grayscale version of the logo maintains the three sides of the cube with varying shades of black.
Lines defining the edges of the cube are added to the singlecolor- black and single-color white versions of the logo to maintain its dimensionality.
These single-color logos, along with the acronym logos on the previous page, will be used sparingly and only accessible on an as-needed basis.
Download Grayscale Logos
Download Black Logos
Download White Logos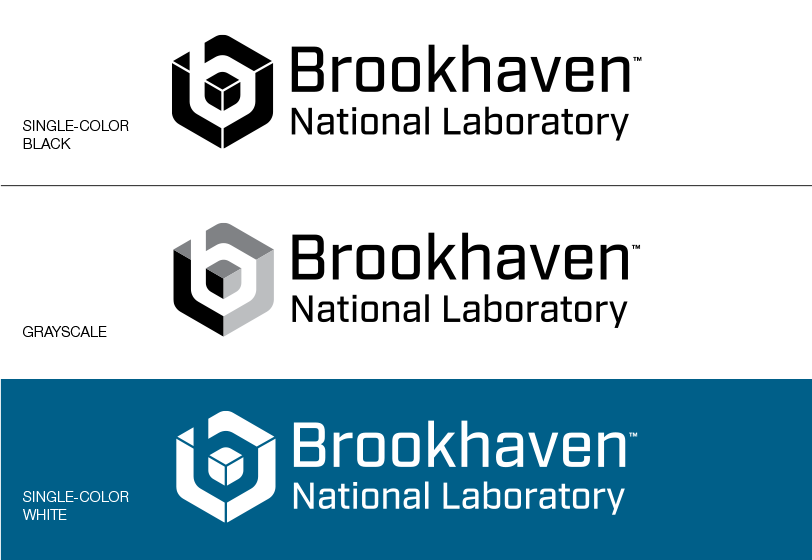 Clear Space
It is important to leave adequate space around the logo to set it apart and frame it within a layout. The dimensions shown on the right represent the minimum amount of clear space needed around the logo.
Leave clear space equal to at least 1/2 the height of the outer cube from all sides of the logo. Whenever possible, try to use more space to give the logo more prominence.
Partner Co-branding
Co-branding treatments demonstrate collaboration and feature the Brookhaven Lab logo with that of one of our partners. A great deal of science, strategy and financial considerations go into co-branding relationships. Therefore equal emphasis should be given to both partners' logos.
When creating a lockup with a partner logo, place the Brookhaven Lab logo on the left and the partner logo on the right, separated by a thin divider line.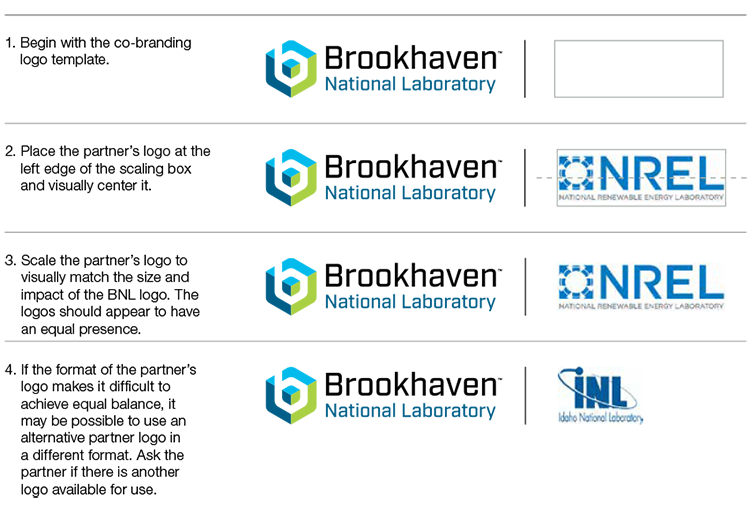 Logo Misuse
Maintaining the integrity of the Brookhaven Lab logo is key to building a strong identity. Care must be taken to ensure correct and consistent use in every application.
To ensure the brand's effectiveness always use approved artwork and never recreate, redraw, or cut and paste from secondary sources.