Safety Update
improvements

to CFN safety
January 19, 2021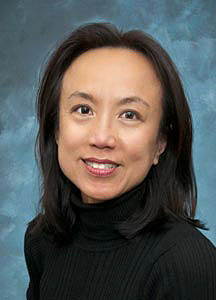 Wai-Lin Ng
Happy New Year! I hope you had a safe and enjoyable holiday season. We start the new year with encouraging news as the COVID-19 vaccine becomes available in New York and on Long Island—and possibly even at Brookhaven Lab, which is currently seeking approval to dispense the vaccine to employees.
The Lab continues to watch the progression of the pandemic with increases in the number of positive cases in both New York State (NYS) and on Long Island. Fortunately, there have been few transmissions on-site. The Lab continues to adhere to NYS guidelines with recently modified travel restrictions that apply to anyone coming from out of state.
The Lab has updated its policy on face coverings, requiring you to wear two layers of fabric indoors at all times, except when you're working alone in a single-person office. Masks are required outside if you're working with others when there is possible interaction closer than six feet. At the CFN, we continue to reinforce disease-prevention practices—social distancing, handwashing, and daily self-screening. Stay home if you're feeling sick, and contact your CFN point of contact and the User Program Administrator if you were scheduled to come in. Please act responsibly both at home and in the workplace so everyone can stay healthy.
The Lab continues to operate in Phase 2 (Expansion of Limited Operations) status, with approximately 30 percent of staff on-site each day. The CFN continues to operate with approximately 50 percent of staff (36 people) on-site each day, supporting a maximum of 16 on-site users each day.
ES&H Safety Assessment in January 2021
For two weeks in January, Brookhaven will undergo a lab-wide safety assessment in which a diverse team of reviewers will evaluate processes for how we plan work and identify and mitigate hazards. The purpose of this review is to identify where Brookhaven can improve such that we consistently perform work safely. Through this review, the assessors will examine CFN work planning documents and interview CFN staff and users. In preparation for the audit, CFN staff and users should review and be familiar with the Experimental Safety Review (ESR) Form and Safety Approval Form (SAF) that describe the work you do.
It is important to know that DOE has a policy called Integrated Safety Management (ISM) for performing work in a safe and environmentally sound manner. This policy ensures that we
Plan all work
Identify hazards for each work activity
Understand necessary work controls and safe work limits
Perform work adhering to the plan
Provide feedback to improve work practices
As researchers and users, we operate within the work scope and with the experimental materials that have been approved in our work documents. We ensure that all the hazards have been evaluated and we know how to work with them safely using the procedures provided by the CFN. Each researcher is responsible for identifying any significant or unintended changes (e.g., new hazards, equipment malfunction) so that they may be reviewed for additional controls, which may be required and approved before their implementation.
If you have any questions, please contact me.
— Wai-Lin Ng
ES&H Manager
2021-17663 | INT/EXT | Newsroom
Subscribe to iCFN
Sign up to receive iCFN in your email inbox.