A Message from Nathalie Bouet
information from the User Executive Committee Chair
January 1, 2013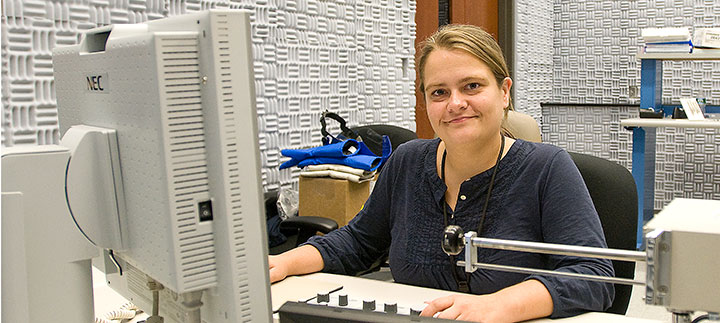 Nathalie Bouet
As you know, the breakthrough research conducted at CFN would not be possible without our diverse and dedicated community of users. Brookhaven Lab relies upon all of you to take full advantage of the great CFN facilities and to help push scientific boundaries and guarantee an innovative future.
With that in mind, we formed the Users' Executive Committee (UEC) to act as an advocate for the needs of the entire CFN Users' Association. I am honored to serve as UEC Chair, and I am excited to use the new iCFN newsletter to engage all of you and continue to improve the user experience, scientific and otherwise.
Just this past November, we adopted a new formal charter with approval from 85 percent of voting users. We laid out our mission of promoting and encouraging CFN research, largely through efficient and open communication between users and the Brookhaven Lab staff. The UEC will work with all of you to communicate current and future needs, and we'll make sure to effectively disseminate information from both CFN and Lab management.
Before I talk about current initiatives and opportunities, it's important to emphasize that the CFN UEC will only be effective if we have an active, communicative relationship with the user community. Every CFN facility user with an active BNL appointment can participate, and you absolutely should! Your involvement is the best way to improve the experience of you and your colleagues.
Cross-Lab Collaborations
CFN users have an extraordinary opportunity to not just work on cutting-edge equipment with dedicated colleagues, but also to reach out and collaborate with groups from all seven of the different CFN facilities. We all can be guilty of having scientific tunnel vision, but don't forget that there's amazing research and opportunities beyond your specific discipline.
Events and Opportunities
The next big users' meeting, held jointly with the National Synchrotron Light Source, is coming up May 20-22, 2013. This will be a chance to showcase your research, learn about your colleagues' work, and develop new ideas for the future. The theme, "Telling our stories, sharing our science," will focus in part on the ways that we, as scientists, communicate what we do to others in society. There will be a formal call for presentations and posters soon, so keep an eye out and begin thinking of ways to promote the impact of your work.
The National User Facility Organization (NUFO) is holding an exhibition in Washington, D.C. this spring to promote NUFO research to members of Congress. A few CFN users will be invited to go and help make a case for our unique capabilities and expertise. Please let us know if you're interested or know someone who might be an ideal advocate for the CFN community.
We also plan to launch a CFN seminar series next year to regularly showcase your research and provide an additional forum for interaction. This will help us rely less on formal meetings and conferences, and enable users to share and promote findings more frequently.
Finally, I'd like to remind everyone of our ongoing weekly Coffee & Cookies events. Every Wednesday at 3:30 PM in the CFN lobby, we host an informal gathering to meet and greet the community. Come and go as you please, and grab some coffee on your way to that next experiment. A UEC staff member will always be present at these meetings to hear directly from all of you.
Contact us!
We've got an exciting year ahead, and the CFN Users' Association is better armed than ever to have a voice here at Brookhaven Lab. Your involvement is absolutely critical to the continuing advancement of the user experience. If you have stories of recent successes, concerns about schedules or new programs, ideas for recreation activities, or simply want to become more involved, please don't hesitate to reach out! Send an email to me or another UEC staff member, or give any of us call.
I look forward to meeting more of you and working together to make this the best possible environment for CFN users!
— Nathalie Bouet
UEC Chair
2013-3564 | INT/EXT | Newsroom
Subscribe to iCFN
Sign up to receive iCFN in your email inbox.