Updates for the User Community
inside the CFN User Office
December 31, 2012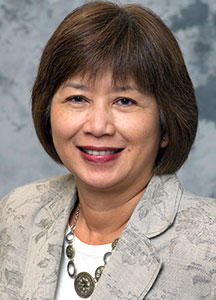 Grace Webster
Even if you don't know me, rest assured that I know every single one of you – at least on paper. As the User Administrator and Outreach Coordinator, I help coordinate logistics all the way from user registration to instrument allocation, and that means working closely with each member of the CFN community to keep things running smoothly.

This message will be a regular feature of iCFN, covering upcoming events, important reminders, and new opportunities here at Brookhaven Lab. Things are always changing at the CFN, and this will help keep everyone informed and involved. There were 446 users here during the past fiscal year, and we're all in it together.
Upcoming Deadlines
For New User Program Proposals: January 31, 2013
For Additional Facility Time Requests for Existing Proposals: March 15, 2013
Upcoming Events
Reminders
Publications resulting from work done at the CFN must be sent to the CFN User Administration Office at cfnuser@bnl.gov. The following acknowledgment must be used when referencing work performed at the CFN: "Research carried out (in whole or in part) at the Center for Functional Nanomaterials, Brookhaven National Laboratory, which is supported by the U.S. Department of Energy, Office of Basic Energy Sciences, under Contract No. DE-AC02-98CH10886."
CFN Changes
Our online safety approval system has been updated to make things easier for you – please review the new features below.
Safety Approval Forms (SAF) are now created, submitted, and approved on-line.
SAF number consists of the proposal number and a revision number - for example, 30021-01.
Users can now view, print, and track the status of their SAFs.
The proposal list now shows a column listing the latest SAF expiration date along with visual triggers of red green yellow to remind users that a new SAF is due.
Remember that you have an opportunity to meet and network with CFN staff and other users over complimentary cookies and coffee every Wednesday at 3:00 PM in the CFN lobby. This is a great chance to learn more about the work of your colleagues, discover new potential collaborations, and strengthen the CFN community.
Whenever you're passing through, check out our newest video signage system on the main lobby TV screen. This new high-performance, video graphics system will help keep the CFN community informed of events and happenings at the CFN on a daily basis.
If you have any questions or concerns, please stop by my office, send an email, or give me a call. I look forward to another great year of working with the CFN user community!
— Grace Webster
User Administration and Outreach
2012-3565 | INT/EXT | Newsroom
Subscribe to iCFN
Sign up to receive iCFN in your email inbox.