A Message from Balaji Raghothamachar
information from the Users' Executive Committee
September 3, 2014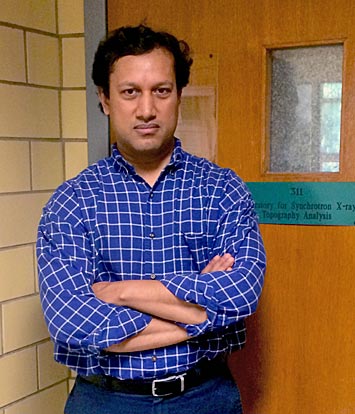 Balaji Raghothamachar
Dear Fellow CFN Users:
On behalf of the CFN UEC, I would like to welcome you to a new cycle. As the newly elected Chair of the UEC for 2014-2015, I would like to thank the outgoing chair, Stanislaus Wong, for his service to the UEC and the user community in general. Over the past year, Stan oversaw the UEC's participation in the DOE Review held in September 2013, the results of which we will discuss in the upcoming Users' Townhall meeting in October. Both Stan in 2013-14 and Nathalie Bouet in 2012-13 have fulfilled their roles as UEC Chairs exceptionally and I hope to match their outstanding contributions during my term.
Meetings and Symposia
The CFN UEC, jointly with the Photon Sciences UEC, hosted the Annual NSLS/CFN Joint Users' Meeting from May 19-21, 2014, with the theme "Science and Industry" to showcase the cooperation and mutual interests of our user facilities and some of the nation's most important companies. Plenary talks by Steve Wasserman of Eli Lilly, Jean Jordan Sweet of IBM Research, and Julie Arslanoglu of New York Metropolitan Museum of Art revealed how the numerous DOE facilities are helping spur drug development, high technology research, and art research and restoration. I was glad to see that the main meeting talks, workshops, and poster session were well represented and well attended by CFN users. The banquet at Bellport Country Club was enlivened by the impressive robotics demos by Long Island high school students.
We are exploring the option of holding our own independent user meetings, separate from those of the Photon Science users, perhaps as early as 2015, in order to be more reflective of the particular needs and requirements of CFN users. User input on meeting format, workshops, plenary talks, and industrial exhibits will be critical for successful organization—please email us at info@cfnuec.org as soon as possible with any thoughts or suggestions you may have. We would also welcome your input at the upcoming Townhall meeting.
The NUFO (National User Facility Organization) meeting was held from April 30 to May 2, 2014, at Pacific Northwest National Lab. NUFO also hosted a User science exhibition at the U.S. House of Representatives on June 10, 2014, in Washington, DC. Updates on these meetings will be provided by the user attendees at the upcoming UEC Townhall meeting.
Following the success of the first talk by Professor Karl Berggren of MIT in the Distinguished Users' Symposium series, I would like to organize another talk in the fall and encourage the input of users for suitable candidates. This symposium offers a unique platform for members of the CFN users' community to communicate their research and promote the exchange of ideas with other users.
CFN Operations
I would like to remind all users to regularly update their publication information on work performed at the CFN in the CFN Publications Database.
The UEC can make formal suggestions to the CFN management regarding the strategic procurement of additional instruments, upgrades, and/or technique capabilities with maximum benefit to as many users as possible. We welcome the input of users to help with these recommendations.
The UEC is also receptive to any ideas to highlight user research in future issues of the iCFN newsletter.
UEC Matters
I would like to reiterate that the UEC has a mission of promoting and encouraging CFN research, largely through efficient and open communication between users and the Brookhaven Lab staff. The UEC will work with all of you to communicate current and future needs, and we'll make sure to effectively disseminate information from both CFN and Lab management. The CFN UEC will only be effective if we have an active, communicative relationship with the user community. I encourage every CFN facility user to participate. Your involvement is the best way to improve the experience of you and your colleagues.
The UEC will organize a User Townhall meeting in mid-October. This will be a great opportunity for users to directly participate in voicing their concerns, discussing their experiences, and providing suggestions for future needs when conducting experiments at CFN. Agenda for the meeting will include:
Update on the results of the DOE CFN review and how it will affect the user community will be provided by the CFN administration
Updates on the NUFO meeting and User Science Exhibition held at the US House of Representatives
Elections for UEC Vice Chair and Secretary from within the current UEC.
Please contact me or other UEC members with your concerns and ideas. You can always stop by our weekly Coffee & Cookies event every Wednesday at 3:00 PM in the CFN lobby. A UEC staff member will be present to hear from you.
We wish you all a productive and stimulating fall cycle and look forward to hearing from you and working with you to improve the user experience at the CFN.
Balaji Raghothamachar
2014-15 UEC Chair
2014-5163 | INT/EXT | Newsroom
Subscribe to iCFN
Sign up to receive iCFN in your email inbox.