iCFN: Message from CFN Director Emilio Mendez
May 13, 2015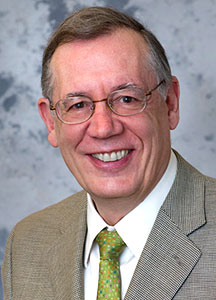 Emilio Mendez
As we move into spring and a season of growth, the CFN is renewing its commitment to our ever-growing user community. Our scientific program is stronger than ever, and I want to thank you all for your involvement and commitment to excellence.
We recently completed a thorough budget review by the Department of Energy, which evaluated our current and future needs. Group leaders and CFN management dedicated considerable time to this review, and it offered an opportunity to make a case for our Strategic Plan and the funds needed to implement it.
We developed a detailed budget to cover the next five years with an anticipated 5 percent growth each year. The President's 2016 budget for DOE's Office of Science requested a similar annual increase, which bodes well for our ongoing operations and upgrades.
Our highest priorities are filling several vacant staff scientist positions—including ongoing interviews for Electronic Nanomaterials—and acquiring new instrumentation to keep us at the forefront of nanomaterial research. The instruments built into the budget include a transmission electron microscope specially designed to work with liquid cell micro-reactors for in operando characterization of catalysts, as well as a major upgrade to CFN's Ultrafast Spectroscopy Facility.
The next budget review will be part of CFN's triennial review in 2016. We like for our users to be aware of these events, in large part because your continued feedback and research needs shape our priorities.
I will be at the upcoming CFN/NSLS-II Joint Users' Meeting to discuss these upcoming upgrade,s new capabilities, and as well as any other concerns or ideas you may have. I hope to see most of you at the meeting, which is a great opportunity to meet each other, have your voice heard, and participate in advising the CFN through the User's Executive Committee (UEC). Elections are coming for UEC leadership, and I encourage you all to vote and get involved. By all means, please consider joining the UEC to represent your colleagues and help sustain our scientific leadership. Be sure to read UEC Chair Balaji Raghothamachar's message in this issue for more info.
At the end of March, all five DOE nanocenters hosted a joint session at the American Chemical Society meeting in Denver. We took this opportunity to share our complementary capabilities, unique facilities and expertise, and user-driven research with attendees. We are exploring more ways of reaching out to the broader scientific community, independently and in concert with the other nanocenters, particularly at major scientific conferences. We want to keep strengthening the CFN network, and I welcome your suggestions on increasing our visibility and outreach.
Please take a few moments to read this issue's stories on CFN staff scientists Eric Stach and Fang Lu. Both cover valuable science and may lead you to new collaborations or ways to take advantage of CFN facilities.
I trust you all will enjoy the warmer weather and continue to make groundbreaking discoveries.
— Emilio Mendez
Director, Center for Functional Nanomaterials
2015-5703 | INT/EXT | Newsroom
Subscribe to iCFN
Sign up to receive iCFN in your email inbox.