Updates for the User Community
inside the CFN User Office
May 13, 2015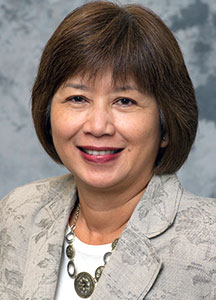 Grace Webster
I look forward to seeing you all at the upcoming Users' Meeting—it's an excellent chance to meet each other, discover new collaborations, and find new ways to strengthen our community.
Remember, the User Office has moved! The new User Office is now located in the main lobby of the CFN, so please stop by to say hello and to check it out!
Beginning this fiscal year, the U.S. Department of Energy's Office of Science (SC), the primary sponsor of the CFN, will require that a limited set of information relating to your user project/experiment be transmitted to SC at the conclusion of the current fiscal year. A subset of this information, including your name, institutional affiliation, and project title, will be publically disseminated as part of an SC user facility user projects/experiments database, located on the SC website. For proprietary projects, SC requests that the user provide a project title that is suitable for public dissemination.
Upcoming CFN Deadlines
The next submission deadline for new proposals is May 31, 2015; the next deadline for requests for additional time is July 15.
Reminders
Users are reminded to submit publication references to the online Publications Database. The CFN compiles a list of all of these publications, and makes it available in various publications and reports. The list only includes published work.
Online Training: If you recently refreshed an online training required at the CFN, please contact the User Office so that your badge access can be updated.
After-Hours Access: After-hours privileges will expire on April 30, 2015. If you need to continue your after-hours access to the CFN, please call or email your CFN Point of Contact so they can authorize your access for the May-August 2015 cycle.
The Oxford F and Trion systems in the clean room are now available to users. However, after-hours use of these instruments will not be permitted or approved.
Nitrile gloves are not permitted outside the laboratories, so please discard them before exiting.
Users whose guest appointments will be expiring in the next three months are reminded to submit a guest extension form to continue their appointments. If no action is taken, the guest appointments will expire automatically on the expiration date.
For those of you submitting new User Proposals, please note that image files (jpegs, tiffs, gifs, etc.), tables, and figures (formatted in a word processing program, such as MSWord) are not supported in the User Proposal System. All such images, tables, and figures must be uploaded within a PDF file through the "Supporting Documentation" option under the "Research Description" tab. Remember that this PDF file can be no longer than three pages.
I also want to remind our entire scientific community to keep us informed of your awards, honors, and publications. Publicizing your discoveries and professional achievements helps us raise the profile of CFN, attract top scientists from around the world, and secure ongoing funding.
If you have any questions or concerns, please stop by my office, send an email, or give me a call. Have a wonderful summer!
— Grace Webster
User Administration and Outreach
2015-5705 | INT/EXT | Newsroom
Subscribe to iCFN
Sign up to receive iCFN in your email inbox.