News and Notes
insight into CFN
May 13, 2015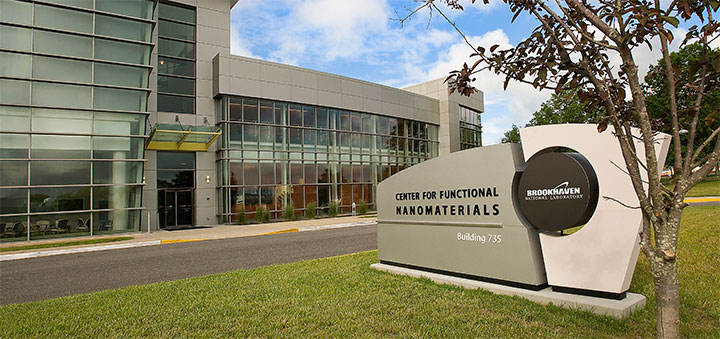 Upcoming Meetings, Workshops, and Events
NSLS-II & CFN Joint Users' Meeting: May 18 - 20, 2015
This year's theme, "It's Showtime," focuses on the exciting new prospects of NSLS-ll, and the continuing excellence of CFN. The program includes invited talks, workshops, a poster session, and exhibits highlighting new technology and instrumentation - all offering opportunities to learn about the latest developments in synchrotron and nanoscience experimentation.
CFN News Stories
Awards and Honors
Oleg Gang, Leader of the Soft and Bio Nanomaterials Group at CFN, Named APS Fellow
Brookhaven Lab Service Awards: Donna Storan, 25 years; Dmytro Nykypanchuk, 10 years; Lihua Zhang, 10 years; Susan Lattuca, 5 years; Kevin Yager, 5 years
Safety Updates
Please review the following video on lab safety from Pennsylvania State University. The tone may be humorous, but the message is valuable to CFN staff and users: Materials Science and Engineering Safety Dance
Please focus on the section on nitrile gloves—our scientists should not be wearing gloves in the hallways!
Comings and Goings
New Hires
Andreas Liapas, Postdoctoral Fellow, Electronic Nanomaterials
Albert Langhorn, Engineer, Operations
Danhua Yang, Postdoctoral Fellow, Electron Microscopy
Andrew Gamalski, Postdoctoral Fellow, Electron Microscopy
John Kestell, Postdoctoral Fellow, Interface Science & Catalysis
Sergii Sologub, Fulbright Scholar, Interface Science & Catalysis
New Alumni
Niv Levy, Interface Science and Catalysis, Space X, California
Barney Grubbs, Electronic Nanomaterials, Stony Brook University
Gayani Pereira, Interface Science and Catalysis
Promotions
Grace Webster, Senior Staff Specialist
2015-5706 | INT/EXT | Newsroom
Subscribe to iCFN
Sign up to receive iCFN in your email inbox.