Graphic Design
The Graphic Design group specializes in visual communications to convey messages with specific objectives. Through creativity and lateral thinking, we interpret the client's needs and produce graphic representations that effectively communicate key messages to the intended audiences.
Graphic Design services are provided at no direct charge to Brookhaven Lab employees and users. Customers must use the Graphic Design Order Form to initiate the process:
Services
Brochures and flyers
Certificates
Covers, reports and booklets
Invitations, programs, tickets, name badges, labels
Magazine and newspaper ads
Posters, banners and displays
Proposal graphics
Social media graphics
Technical, scientific, and editorial Illustrations
The Graphic Design Studio is located on the second floor of Bldg. 400.
Normal Hours of Operation - 8:30 a.m. - 5 p.m., Ext. 7288
To discuss new design projects, please contact Creative Director Brian Tellerman.
The Creative Resources Group has recently updated its ordering system. In this tutorial, we will walk you through the process of filling out the new Creative Resources request form.
Having trouble?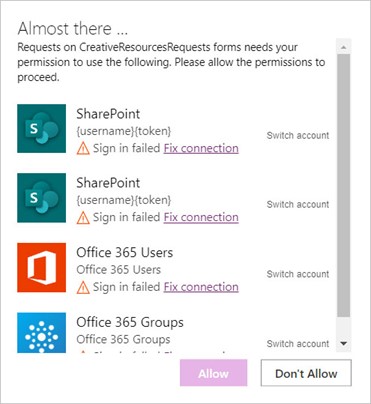 You may need to allow permissions to access the new form. If you receive the below notification, then click the "Fix Connection" links next to one or more of the items listed. You may also need to click the "Allow" button. After doing so, you may encounter a blank screen or be forced to close your browser. You may also be asked to log in to Office 365. After doing so, you should be able to access the form as normal. This step will only need to be completed once. Your experience may vary depending on your browser.
If you are still having trouble, then clear your browser cache or use a private browsing window.