The Brookhaven Experience
Brookhaven Lab and its world-class research facilities are at the forefront of scientific discovery, and 60 miles east of midtown Manhattan. We are on an exciting journey to the ever-expanding frontiers of science: inventing new technologies to power our future, understanding how the universe's smallest particles interact, and finding solutions for some of our nation's greatest challenges. Employment at Brookhaven Lab comes with many benefits.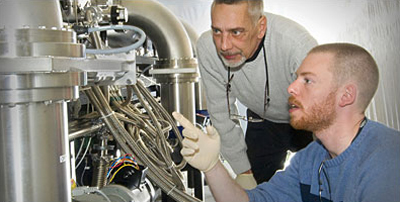 Why did they choose Brookhaven?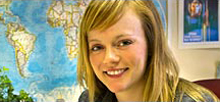 Sarah Poe, an employee in the Nonproliferation and National Security Department, says the "stars were aligned" for her to land a job at Brookhaven Lab.
Poe is a member of the Lab team that works closely with the International Atomic Energy Agency (IAEA) to strengthen systems that help prevent the spread of nuclear weapons around the world. Already, her career has given her the opportunity to travel to many parts of the globe, including a recent trip to Kazakhstan.
After graduating with a Master's Degree in nuclear nonproliferation policy from the Monterey Institute of International Studies in California, Poe spent time in Vienna, Austria, at an internship at the IAEA. "I made many contacts during my internship, which eventually led me to the job at Brookhaven," said Poe. "This is exactly the career path I hoped for."
Poe, who hails from Kentucky, holds a B.A. in international politics and economics and Russian from Middlebury College in Vermont. When she isn't busy at work, she enjoys traveling, yoga, biking, snowboarding, and racing sailboats. "I'm gearing up for my first summer on Long Island," she said. "I have a lot to explore on my bike and I'm looking for a crew to sail with. I am so happy to be here."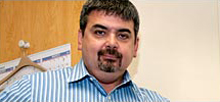 In his job as Chief Electrical Inspector at Brookhaven Lab, Eugene Santiago uses the same strict, methodical approach as he did when he worked for the U.S. military and was deployed twice to Afghanistan — where even small errors have big consequences. His expertise and exacting standards allow the Lab to focus on conducting research instead of dealing with electrical problems and compliance issues.
"I was interviewed for the job via Skype while still in Afghanistan," said Santiago. "After that interview I felt that I had a lot to offer the Lab. I knew that I wanted to lead the team that would set the industry standard on electrical inspection reporting and compliance at Brookhaven."
Santiago spent his first few months at the Lab on his own, living on site while looking for a house for himself and his wife and children. Now the family is at home in Shoreham and they are all settling in as Long Islanders.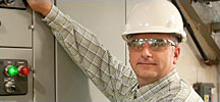 A facility complex engineer in Brookhaven Lab's Energy and Utilities Division, Christopher Bruno is a licensed professional engineer with a vast knowledge of electrical, water treatment control, and communication systems.
"I came to Brookhaven Lab to get involved in the mechanical and accounting aspects of managing projects, to help the facility complex managers solve engineering challenges, and to ensure that facilities are compliant with building codes," said Bruno. "Few engineers ever have the opportunity to see the sheer complexity of equipment and facilities like those at Brookhaven. I wanted to be a member of the team that keeps the Lab 'mission-read' by supporting the scientists and the important research programs at BNL."
Bruno has been recognized by the New York State Society of Professional Engineers for his work at his previous job at the Suffolk County Water Authority.