Contact:
Peter Genzer
, (631) 344-3174 | Written by Diane Greenberg
Brookhaven Lab Scientist Honored at Asian Pacific American Association Celebration
May 12, 2010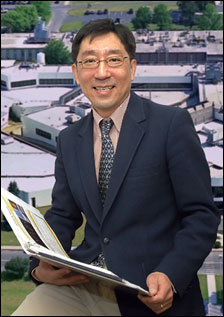 enlarge
Chi-Chang Kao
UPTON, NY — Chi-Chang Kao, Chair of the National Synchrotron Light Source (NSLS) at the U.S. Department of Energy's Brookhaven National Laboratory and Director of the Joint Photon Sciences Institute (JPSI), will be honored as a distinguished Asian American professional on May 15 at the annual Asian Pacific American Heritage Month Celebration. Along with nine other honorees, Kao will receive a proclamation from Suffolk County Executive Steve Levy at a 3:30 p.m. ceremony at Stony Brook University's Wang Center Theater.
"I'm pleased to be honored by the Asian Pacific American community, and I'm fortunate to have many distinguished colleagues and friends who have helped me in my career," Kao said.
The Asian American Advisory Board of the Suffolk County Office of Minority Affairs and the Charles B. Wang Center organize the Asian Pacific American Heritage Month Celebration in cooperation with Brookhaven Lab's Asian Pacific American Association, the Taiwanese American Association on Long Island, and the Filipino American Community Organizations of Long Island.
As Chair of the NSLS, Kao oversees approximately 175 employees and about 2,200 visiting scientists from more than 400 universities, laboratories and companies each year. Researchers at the NSLS use x-rays, infrared, and ultraviolet light to probe a wide variety of materials, from computer chips to viruses. This research has yielded advances in such diverse fields as biology, physics, chemistry, geophysics, medicine, and environmental and materials science.
As Director of JPSI, a Brookhaven Lab-Stony Brook University initiative, Kao is building interdisciplinary teams of scientists from academia, industry, and government to address challenging problems in science and technology, including the development of renewable, alternative energy resources. Funded through a partnership between the U.S. Department of Energy and New York State, JPSI is an intellectual center for the development and application of photon sciences — physical sciences, engineering, and life sciences research using synchrotron light. It will also be a gateway for scientists who use the NSLS-II. Now under construction at Brookhaven Lab, NSLS-II will be the world's brightest light source when it is completed in 2015.
Kao's research focuses on new experimental techniques using synchrotron radiation and their applications to condensed matter physics and materials science. In 2006, he was a member of a team of scientists that won an R&D 100 Award for developing an x-ray focusing device. R&D Magazine gives these awards annually to honor the top 100 technological achievements of the year.
A Fellow of the American Association for the Advancement of Science and the American Physical Society, Kao earned a B.S. in chemical engineering from National Taiwan University in 1980 and a Ph.D. in chemical engineering from Cornell University in 1988. In that year, he joined Brookhaven Lab as a postdoctoral research associate at the NSLS. He received tenure as a Brookhaven physicist in 1997. Kao became a senior physicist and Associate Chair for User Science, NSLS, in 2001, and he served as NSLS Deputy and Interim Chair for a year before being named NSLS Chair in 2006. He was appointed Director of JPSI in 2008.
Kao joined the Stony Brook University faculty in 2003, where he is currently an adjunct professor in the Physics Department. He is also a visiting scientist at the Geophysical Laboratory, Carnegie Institution of Washington, based in Washington, D.C.
2010-11132 | INT/EXT | Newsroom