George Clark Named Chief Financial Officer and Associate Laboratory Director for Business Services at Brookhaven Lab
February 19, 2016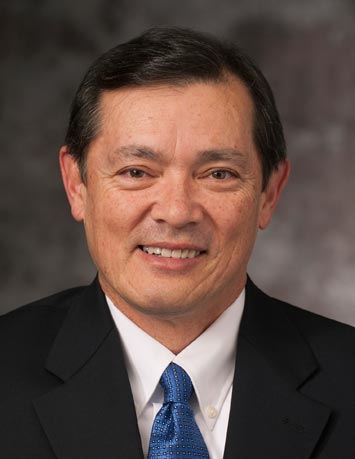 enlarge
George Clark
UPTON, NY—George Clark, a certified public accountant with more than 20 years' experience at Oak Ridge and Pacific Northwest national laboratories, has been named Chief Financial Officer (CFO) and Associate Laboratory Director (ALD) for Business Services at the U.S. Department of Energy's (DOE) Brookhaven National Laboratory, effective February 22, 2016. Clark succeeds Suzanne Davidson, who left Brookhaven in 2015 for a position at SLAC National Laboratory.
Clark comes to Brookhaven from Central Washington University, where he was Vice President for Business and Financial Affairs and CFO, after serving in senior leadership positions at the National Radio Astronomy Observatory in Charlottesville, Virginia, and the University of Hawaii Institute for Astronomy.
"George's diverse background and understanding of the requirements of a management and operations contract for a DOE Office of Science lab made him an especially attractive candidate to fill this role at Brookhaven," said Brookhaven Lab Director Doon Gibbs. "His experience and expertise will be a great asset as we focus our resources on building and supporting one of the most impactful research agendas in the Office of Science complex."
As CFO for Brookhaven Science Associates, the company that manages Brookhaven Lab for DOE, Clark will provide leadership, direction, and oversight for the financial affairs of the Laboratory, which has an annual budget of approximately $600 million and a staff of more than 2,700. As ALD for Business Services, he will administer a directorate operating budget of $44 million and a staff of 310, and oversee Lab functions including business development and analysis, procurement and property management, information technology, and fiscal services.
"I look forward to joining a world-class research laboratory and applying my experience to improve its business analytics and promote a customer service team approach toward enabling Brookhaven Lab science," said Clark.
Clark earned his BA in accounting and MBA from the University of Washington. He has also earned a Harvard Leadership Institute Certificate, and serves on the Stanford University/SLAC National Laboratory Board of Overseers Finance & Audit Committee.
Brookhaven National Laboratory is supported by the Office of Science of the U.S. Department of Energy. The Office of Science is the single largest supporter of basic research in the physical sciences in the United States, and is working to address some of the most pressing challenges of our time. For more information, please visit science.energy.gov.
2016-11817 | INT/EXT | Newsroom