Contact:
Peter Genzer
, (631) 344-3174 | Written by Ariana Tantillo
Kerstin Kleese van Dam Receives 32nd Town of Brookhaven Annual Women's Recognition Award for Science
Director of Brookhaven Lab's Computational Science Initiative is being recognized for her contributions to scientific computing and data management
March 19, 2018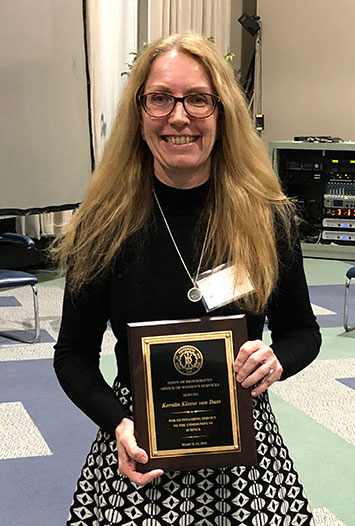 enlarge
At an award ceremony on March 15, the Town of Brookhaven Office of Women's Services presented Kerstin Kleese van Dam with an award for her outstanding service to the community in the science category.
UPTON, NY—The Brookhaven Town Office of Women's Services has selected Kerstin Kleese van Dam, director of the Computational Science Initiative (CSI) at the U.S. Department of Energy's (DOE) Brookhaven National Laboratory, to receive the 32nd Annual Women's Recognition Award in the science category.
The Town of Brookhaven has annually been recognizing the contributions of women since 1986. Awardees are selected for their service to the community as professionals or volunteers who live or work in the Town of Brookhaven. Award categories cover a wide range of areas, from the arts and sciences to business, medicine, government, law enforcement, education, military, sports, and religion. Community groups, businesses, and individuals are asked to submit nominations, which are then reviewed by members of the Brookhaven Women's Advisory Board.
Kleese van Dam is being recognized for her contributions to scientific computing and data management over the past three decades. Since being named director of CSI in 2015, she has continued to build a comprehensive research program in data-driven discovery at Brookhaven Lab. The nearly 90 staff members under her leadership are tackling the challenges that come with capturing, storing, analyzing, and distributing the large, complex volumes of data that scientists are generating at faster rates than ever before.
"I am honored and humbled to be recognized for the work that I am deeply passionate about," said Kleese van Dam. "My hope is that this award will inspire others to follow in my footsteps and encourage more women to choose a career in computer science."
Prior to joining Brookhaven, Kleese van Dam led several data management research and development projects in applied computer science at DOE's Pacific Northwest National Laboratory (PNNL), where she served as associate division director of the Computational Science and Mathematics Division, as well as chief scientist and lead of Data Services. She arrived in the United States following leadership positions in computing at University College London Medical School and data management at the Science and Technology Facilities Council in the United Kingdom.
Within the computational science community, Kleese van Dam is highly regarded. Her work in scientific data management was recognized with the 2006 British Female Inventors and Innovators Silver Award, and her research has led to the co-authorship of more than 100 publications to date. Throughout her career, she has been asked to share her expertise through various advisory committees and conferences. Recently, she was appointed to serve on DOE's Biological and Environmental Research Advisory Committee, providing input on data science in the context of biological and environmental research.
"Kerstin Kleese van Dam is a world-class computer scientist and science leader with impact well beyond Brookhaven Lab," said Brookhaven Lab Director Doon Gibbs. "In the less than three years she has been at Brookhaven, she has put together a powerful and growing program of existing and new capabilities that have established the Lab among the leaders in big data focused on scientific research. A recent project involves her co-chairing a team of U.S. Department of Veterans Affairs professionals and DOE scientists involved in a big data initiative to improve healthcare for veterans. She has also been an inspiring mentor and role model to many students and postdoctoral fellows, including providing opportunities to increase the involvement of women and other underrepresented minorities in science. We at Brookhaven are delighted that Kleese van Dam has been recognized with this prestigious honor."
Deborah Gracio, director of National Security Programs at PNNL, echoed this sentiment: "I have had the opportunity to watch Kerstin continue to grow her leadership and people skills. I am impressed by her passion and drive to not only build CSI from a research and scientific perspective but also to hire and develop the people that are necessary to grow these capabilities. The impact that she is having on Brookhaven National Laboratory and the technical community will endure."
Kleese van Dam and the other six recipients were honored during an award ceremony at Town Hall on March 15 as part of Women's History Month. At this ceremony, Kleese van Dam was also presented with a Certificate of Recognition from the State of New York Executive Chamber, a Certificate of Merit from the New York State Assembly, and a Citation from the New York State Assembly, all for her excellence in science.
The Town of Brookhaven's Office of Women's Services, a Division of the Department of Housing and Human Services, provides a variety of services for women and their families. For more information about the Annual Women's Recognition Awards, please call 631-451-6146 or visit https://www.brookhavenny.gov.
Brookhaven National Laboratory is supported by the Office of Science of the U.S. Department of Energy. The Office of Science is the single largest supporter of basic research in the physical sciences in the United States, and is working to address some of the most pressing challenges of our time. For more information, please visit science.energy.gov.
Follow @BrookhavenLab on Twitter or find us on Facebook.
2018-12800 | INT/EXT | Newsroom