Contact:
Peter Genzer
, (631) 344-3174 | Written by Ariana Tantillo
Brookhaven Lab Launches "PubSci Playback" Podcast
Each episode will feature audio recorded during one of the Lab's live science café and conversation series events
October 31, 2018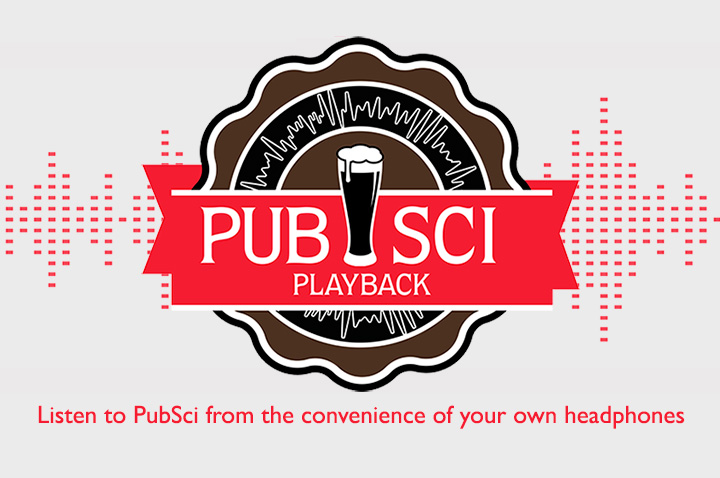 UPTON, NY—The U.S. Department of Energy's (DOE) Brookhaven National Laboratory has launched a podcast based on its live science café and conversation series, PubSci.
Since 2014, PubSci has been offering the public a chance to see a more casual side of the groundbreaking science happening every day at Brookhaven Lab. The series hops around Long Island, bringing Brookhaven scientists and their collaborators at other research institutions together with an audience—typically in a pub or restaurant setting—for informal discussions about Brookhaven's research. The interactive discussions have covered various topics, including the early universe, nuclear medicine for personalized cancer treatment, nanotechnology for sustainable energy solutions, and our changing climate. Audience members are encouraged to participate throughout the event by asking questions and engaging with the panelists.
Now, audio recorded at PubSci events is being converted into downloadable podcast episodes.
"This new podcast gives us an opportunity to share these lively, fascinating conversations about science with a broader audience," said David Manning, director of the Lab's Stakeholder and Community Relations Office. "It also provides a window into what drives and inspires our researchers to tackle some of the biggest and most challenging questions out there."
The first PubSci Playback episode features discussions from the October 2017 PubSci, "The Dark Universe: Exploring the Mysterious Invisible Forces Rippling Through the Cosmos," which was hosted at the Bluestone Tavern in West Sayville, New York. In this 40-minute show, three physicists and cosmologists take listeners on a search for the universe's "missing" dark matter and the dark energy causing our universe to expand at an accelerated pace.
The episode is available for download on the PubSci Playback website and will soon be available in the iTunes store, and new episodes will be uploaded as future PubSci events are held.
To be notified about upcoming PubSci events and podcast episodes, and to learn more about the program, please visit the PubSci website.
Brookhaven National Laboratory is supported by the Office of Science of the U.S. Department of Energy. The Office of Science is the single largest supporter of basic research in the physical sciences in the United States, and is working to address some of the most pressing challenges of our time. For more information, please visit science.energy.gov.
Follow @BrookhavenLab on Twitter or find us on Facebook.
2018-13150 | INT/EXT | Newsroom