Contact:
Peter Genzer
, (631) 344-3174 | Written by Ariana Tantillo
Brookhaven's Kevin Yager Named Oppenheimer Leadership Fellow
As part of the fourth cohort of the Oppenheimer Science and Energy Leadership Program, Yager is helping identify challenges and opportunities for the U.S. Department of Energy while developing his leadership skills
November 30, 2020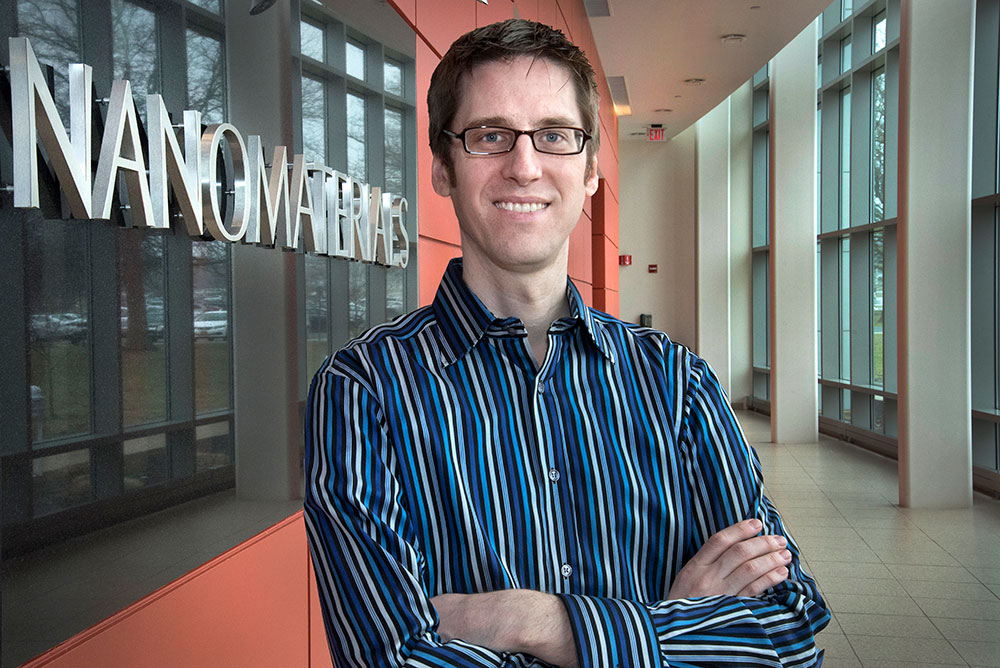 enlarge
Kevin Yager at Brookhaven Lab's Center for Functional Nanomaterials, where he leads the Electronic Nanomaterials Group. Yager is part of the fourth cohort of the Oppenheimer Science and Energy Leadership Program, which seeks to create a network of future U.S. Department of Energy (DOE) leaders with a broad understanding of the DOE and national lab system.
UPTON, NY—Kevin Yager—leader of the Electronic Nanomaterials Group at the Center for Functional Nanomaterials (CFN), a U.S. Department of Energy (DOE) Office of Science User Facility at Brookhaven National Laboratory—was selected as a fellow for the 2020–2021 cohort of the Oppenheimer Science and Energy Leadership Program (OSELP). Established in 2017, OSELP brings together emerging leaders to explore challenges and opportunities faced by the DOE and its diverse and complex national lab system. Participants are introduced to the nation's energy enterprise while further developing their leadership skills. The program is named after physicist J. Robert Oppenheimer, who is considered a "founding father" of the DOE national labs. Oppenheimer served as scientific director of the Manhattan Project and led a multidisciplinary team of scientists and engineers to build the site for what is now Los Alamos National Laboratory, becoming its first director.
Yager is one of 18 fellows across the 17 DOE national labs who is serving in the fourth cohort of OSELP. At the beginning of this year, the cohort began a series of on-site visits to national labs, spending a week at Los Alamos and Sandia. Because of the pandemic, these visits have since transitioned into a live virtual format. In both cases, fellows meet with individuals across the entire lab structure, from lab directors to postdocs; tour research facilities; and engage with one another.
"OSELP is the most eye-opening program I've ever been a part of," said Yager. "The cohort format enables us to have candid conversations about each of the labs and gain a comprehensive perspective of the DOE complex. Many of the labs have a very different mission than that of Brookhaven—for example, the National Nuclear Security Administration labs—and so I would not have otherwise had the opportunity to visit them."
The cohort also breaks into subgroups focusing on particular themes where DOE and the labs can be more effective and impactful as a collective system. Each subgroup develops a "think piece," or a strategy, which they present to the National Laboratory Directors' Council in Washington, DC at the end of the program.
Yager is part of a subgroup focusing on leadership in data. Scientists conducting experiments at user facilities across the DOE are generating large and complex datasets, presenting both a challenge and an opportunity.
"Data handling is a challenge because of the amount of data to mine through and extract insights from, and an opportunity because of the potential to greatly accelerate scientific discovery," said Yager.
The focus of this subgroup is closely related to Yager's research at Brookhaven on machine learning and autonomous experimentation.
"I've been doing a lot of work in this space at the CFN, National Synchrotron Light Source II (NSLS-II), and Computational Science Initiative," said Yager. "I'm a firm believer in the power of data science to radically accelerate discovery. I've seen it in my own work. When you view the national lab complex as a whole, the potential for impact is enormous."
Recently, Yager—who leads the CFN user program on x-ray scattering for nanoscience—co-developed an algorithm for autonomous x-ray scattering and machine learning approaches for analyzing x-ray scattering images. A characterization technique based on the interaction between x-rays and a sample, x-ray scattering provides information about the structure of materials at ultrasmall size scales.
"Kevin is one of Brookhaven's talented future leaders with the potential to contribute strongly to the DOE mission," wrote Brookhaven Lab Director Doon Gibbs in his nomination letter. "He will bring a unique and valuable perspective to the OSELP cohort because of his work experience at laboratories run by two different agencies, his interactions with a broad network of scientific collaborators at CFN and NSLS-II, and his ability to make science accessible to the public. Participation in OSELP will enable him to share his extensive knowledge about autonomous experimentation while learning about the broader picture of the Lab system and further shaping his understanding of DOE-wide priorities and challenges."
Yager joined Brookhaven in 2010 as an assistant materials scientist and quickly rose through the ranks, becoming leader of the CFN Electronic Nanomaterials Group in 2016. Previously, he was a guest researcher at the National Institute of Standards and Technology. He received his PhD in physical chemistry from McGill University.
Yager is Brookhaven Lab's fourth participant in OSELP. Charles Black, CFN director, and Amy Marschilok, Brookhaven Energy Storage Division manager and Stony Brook University professor and deputy director of the Center for Mesoscale Transport Properties, participated in the first cohort; Brookhaven Instrumentation Division Director Gabriella Carini was part of the third cohort.
"OSELP builds connections across the labs that help the DOE better tackle big issues in a coordinated way and prepares the next generation of DOE leaders," said Yager. "I am very grateful to have been selected for this prestigious program. It's been an amazing experience so far."
OSELP, the premier leadership development program of the National Laboratory Directors' Council, is managed by the University of Colorado Boulder. NSLS-II is a DOE Office of Science User Facility. The Center for Mesoscale Transport Properties is a DOE Energy Frontier Research Center.
Brookhaven National Laboratory is supported by the U.S. Department of Energy's Office of Science. The Office of Science is the single largest supporter of basic research in the physical sciences in the United States and is working to address some of the most pressing challenges of our time. For more information, visit https://energy.gov/science.
Follow @BrookhavenLab on Twitter or find us on Facebook.
2020-17523 | INT/EXT | Newsroom