Contact:
Peter Genzer
, (631) 344-3174 | Written by Kelly Zegers
Ward Melville, Commack Students Test Bridges in International Contest
Students who built the most efficient bridges in Brookhaven Lab's annual competition participated in the International Bridge Building Contest
May 13, 2022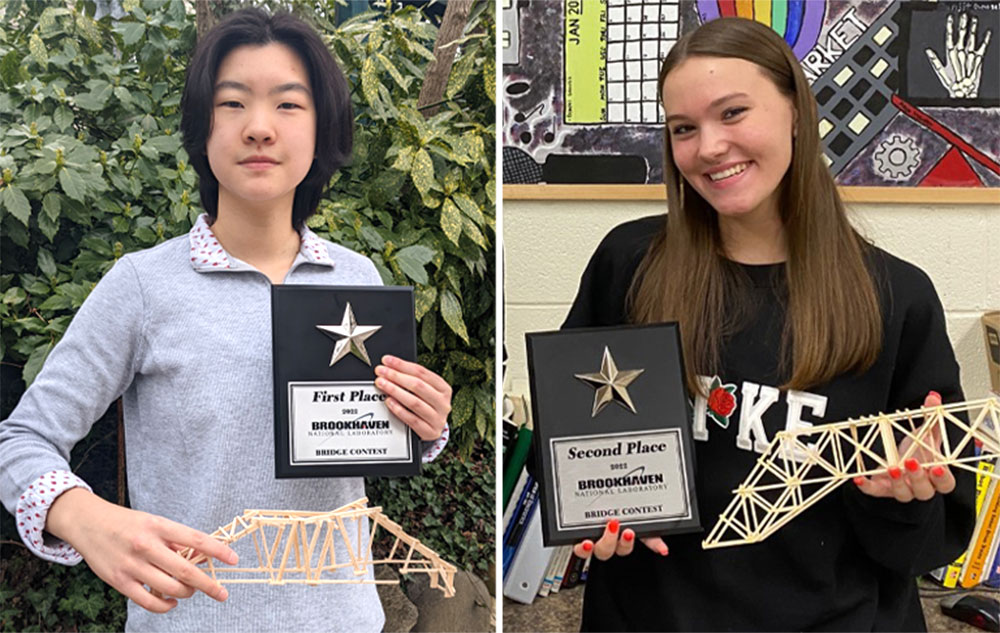 enlarge
Katherine Liang, left, and Jaqueline Seifert with the bridges that qualified them to compete in the international contest.
UPTON, NY – Katherine Liang, a 10th grade student at Ward Melville High School, and Jaqueline Seifert, an 11th-grader at Commack High School, constructed the strongest bridges in the 2022 Annual Bridge Building Competition hosted virtually by the U.S. Department of Energy's Brookhaven National Laboratory and went on to earn top 20 spots in the 2022 International Bridge Building Contest.
Liang, who garnered first place in Brookhaven's competition for the second year in a row, placed 9th out of 48 competitors in the international competition that included students from 41 schools around the country. Her bridge earned an efficiency score of 2349.51. Seifert, who placed second in Brookhaven's contest, finished 16th overall with an efficiency score of 1561.04. This year's international event took place on May 7 in Covington Township, Pennsylvania and was livestreamed.
The annual regional contest organized by Brookhaven's Office of Educational Programs (OEP) promotes the study and hands-on application of principles of physics and engineering.
"The bridge building competition is a great way to introduce students to engineering challenges and how the Department of Energy addresses engineering challenges as part of its mission," said Scott Bronson, Brookhaven Lab's manager for K–12 programs. "This includes the development of the Electron-Ion Collider—a 2.4-mile-circumference particle collider that will unlock the secrets of nature's strongest force, steering beamlines at the National Synchrotron Light Source II to study materials at the nanoscale level, and research towards energy grid advancements. Meeting the amazing Brookhaven Lab engineers who volunteer to support this competition inspires the next generation of students to pursue this exciting STEM career path."
Out of 113 bridges submitted by students from 18 schools across Suffolk and Nassau counties in the local competition, 65 qualified for testing to find out who constructed the most efficient bridge out of bass wood under rigorous specifications. Efficiency is calculated from the bridge's weight and the weight the bridge can hold before breaking or bending more than one inch. The higher the efficiency, the better the design and construction. The students with the top two most efficient bridges qualify for the international competition.
The young engineers sent their structures to Brookhaven Lab where dedicated volunteer judges used a compression machine for testing. The results were broadcast online on March 29.
Liang's first-place bridge weighed in at 14.62 grams and held a load of 83.06 lbs. to realize an efficiency of 2576.97.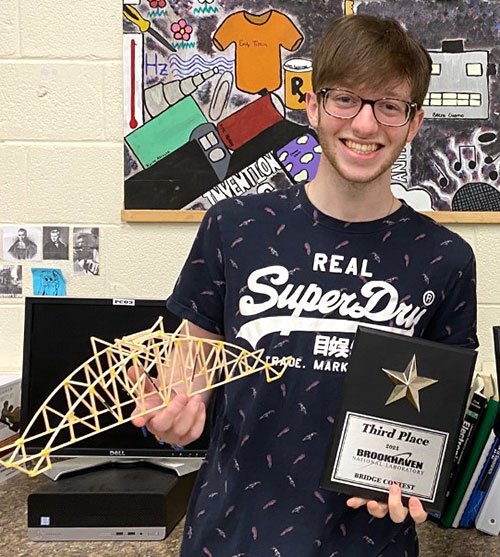 enlarge
Skyler Roth from Commack High School placed third in Brookhaven Lab's regional competition.
Last year, the winner tested out a handful of bridge designs before deciding which one to submit for the contest—a strategy she didn't need this time around.
"This year I designed my first design and I tested it and it got 2300 efficiency, so I was like that's probably good enough," Liang, a student of Todd Kettler, said at an April 7 virtual awards ceremony. She said she enjoys competing in the contest because it's an opportunity to focus solely on bridge construction, as it might be one of many events in other student science competitions.
Jaqueline Seifert, an 11th grade student of Thomas Shea at Commack High School, garnered second place with a bridge that weighed 21.7 grams and supported 59.11 lbs. The bridge earned an efficiency of 1235.57.
Seifert considered the efficiency of equilateral triangles and squares, plus a strong glue, in her bridge design.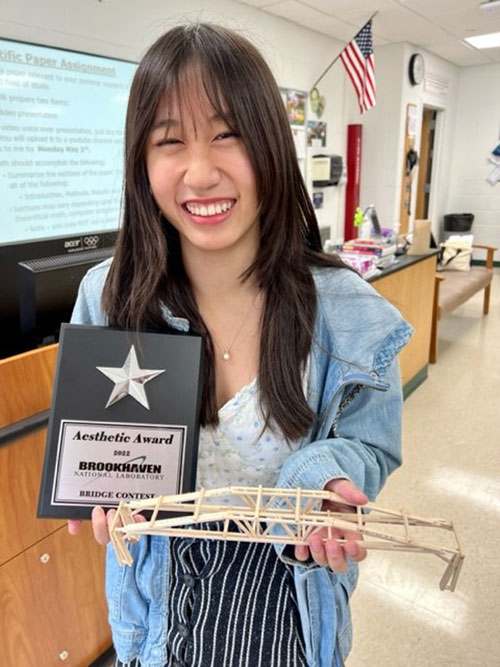 enlarge
Hannah Lin from Smithtown High School won the Aesthetic Award in Brookhaven's contest.
Her favorite part of the bridge-building process? "I think it's definitely more of the experimentation and seeing what works and what doesn't, and the process of making it better," she said. "It's fun to see your hard work pay off."
Third place winner Skyler Roth, a senior at Commack High School, built a bridge that weigh 25 grams and held 61.21 lbs. for an efficiency of 1111.57.
Roth said precise wood cuts helped make his bridge stronger. Testing to see how the bridge could be made stronger was also key, he offered as a tip for future bridge contest participants.
"I built my bridge around an arch design," Roth said. "I put the wood in water and let it soak so I could bend it around. Once I tested it, it ended up working well."
Hannah Lin, an 11th grade student Ward Melville High School, took home the competition's Aesthetic Award for her visually appealing design.
"Hannah is a very well-rounded student who shines in both the arts and the sciences," Marnie Kula, Science Department Chair at Ward Melville High School. "We think her winning the Aesthetic Award is a nice testament to Hannah's many talents and interests!"
Brookhaven National Laboratory is supported by the Office of Science of the U.S. Department of Energy. The Office of Science is the single largest supporter of basic research in the physical sciences in the United States and is working to address some of the most pressing challenges of our time. For more information, please visit science.energy.gov.
Follow @BrookhavenLab on Twitter or find us on Facebook.
2022-19519 | INT/EXT | Newsroom