Safety Training: New Classrooms Open In Bldg. 902
January 14, 2010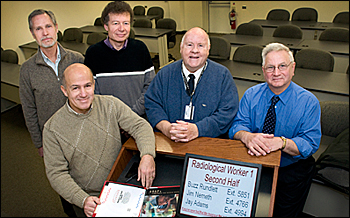 Members of the Training and Qualifications Office inside one of their new classrooms in Bldg. 902 are (from left) Jim Nemeth, Terry Maugeri, Phil Harrington, George "Buzz" Rundlett, and Bill Fortunato. Not pictured is Jay Adams.
As of January 11, classes organized by Brookhaven Lab's Training and Qualifications Office (T&Q) have a new home: Bldg. 902. There, three new classrooms have been outfitted to host the Lab's daily training sessions.
The T&Q office in the Human Resources & Occupational Medicine Division works to ensure that all Lab employees, guests, users, and contractors are properly trained and qualified to complete their tasks and responsibilities safely.
"For the past three years, there has not been adequate classroom space for safety training," explained Terry Maugeri, the Compliance Training Manager. "The new classrooms will allow us to run more than one session at a time and guarantee that the space will be available when we need it."
Safety training sessions were previously held in conference rooms across the site. While Contractor/Vendor Orientation will continue to be held in Bldg. 938, nearly all other classes will be held in Bldg. 902. Each of the new rooms can hold 16 to 30 people and can also be reserved for use by other departments by contacting training@bnl.gov.
To avoid any confusion, employees will still receive an e-mail confirmation that will tell them where to go for training once registered.
The new training classrooms in Bldg. 902 are accessible via Cornell Avenue. (See a map of the area.) If parking spaces are not available in the lot nearest these new classrooms, additional spaces are available at the northern end of the Berkner Hall parking lot.
2010-1174 | INT/EXT | Newsroom