McKnight Named Manager for Procurement & Property Management at Brookhaven Lab
March 13, 2019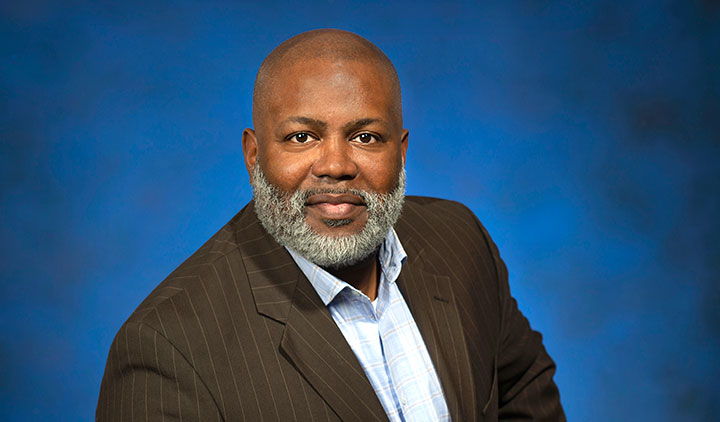 enlarge
Lynn McKnight
UPTON, NY—Lynn R. McKnight has been named Manager for Procurement & Property Management for the U.S. Department of Energy's (DOE) Brookhaven National Laboratory, effective March 11.
In his new role, McKnight will oversee more than 35 employees and a $190 million annual procurement and subcontract spend. He'll be responsible for managing all purchasing, contracts, competitive bidding for products and services, program compliance, and all other matters related to procurement, including the Lab's small business program. He will also oversee the property management activities, which includes tracking the more than 17,000 assets in the Lab's inventory.
"Providing the value that improves corporate operations and enables our customers to achieve their goals is paramount for a top-performing procurement and property organization," McKnight said. "Leading a team of professionals with a single focus on success always has and will continue to be the main driver for my efforts. I'm excited to be joining the Brookhaven Lab community, and to enjoying all that Long Island has to offer."
Previously, McKnight was head of Procurement at Thomas Jefferson National Accelerator Facility, or "Jefferson Lab," a DOE Office of Science laboratory in Newport News, Virginia. There he was responsible for sourcing, procurement, and managing Jefferson Lab's prime contract.
McKnight is a supply chain expert, and has held leadership roles in defense and commercial enterprises in his more than 30-year career. He was previously director of supply chain management at Ideal Innovations, Inc., head of corporate compliance and training at SAIC (which provides services and information technology support to government), and senior manager for procurement and supply management at construction and engineering firm Kellogg Brown & Root.
As a civilian contractor in support of U.S. and coalition military forces, McKnight led supply chain and property management teams in Iraq from 2003 to 2007. He assisted military and civilian agencies and organizations in setting up supply lines in the southern regions of the country, building camps and small bases with support services. He also led the building and repair of two strategic airports with 12,000- and 14,000-foot runways and air traffic control towers, as well as the Haditha Dam repair project.
"Lynn brings a wealth of experience to Brookhaven Lab with more than 30 years of procurement management expertise," said George Clark, Chief Financial Officer and Associate Laboratory Director for Business Services at Brookhaven National Laboratory. "He has worked for JLab, SAIC, and I3 to include management and operating contract experience as well as large construction projects procurements for international and domestic entities. He has demonstrated experience in building strong customer service teams and working with small business and minority-owned business entities, which will definitely help the Lab grow our minority- and women-owned business enterprises procurement and subcontract efforts for the future."
McKnight received his bachelor's degree in business management from Hampton University in Hampton, Virginia, a certificate in leadership from the University of Chicago—Booth School of Business, and is certified in Lean Six Sigma.
Brookhaven National Laboratory is supported by the Office of Science of the U.S. Department of Energy. The Office of Science is the single largest supporter of basic research in the physical sciences in the United States, and is working to address some of the most pressing challenges of our time. For more information, please visit science.energy.gov.
2019-14423 | INT/EXT | Newsroom