Vets Helping Vets
Brookhaven Lab's Veterans Association (BVA) Volunteers to Refurbish Veteran Housing
November 9, 2009
U.S. Army veteran John Lynch decided to organize a reunion with comrades he served with during the Vietnam War. What he found surprised and then motivated him to establish the not-for-profit organization, Suffolk County United Veterans (SCUV).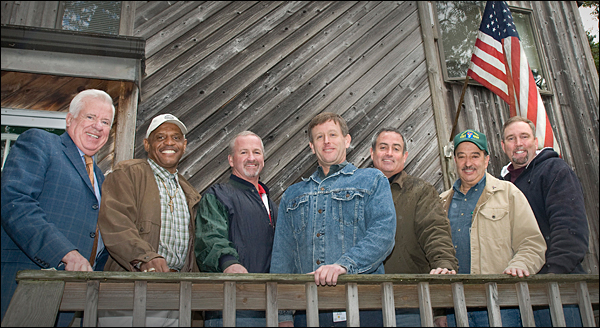 Standing on the front steps of the recently refurbished veterans group home in Shirley are (from left) John Lynch and Wilkens Young, Suffolk County United Veterans; Mike Paquette, Scott Bradley, Dennis Ryan, Peter Palamidis, and Don Farnam, Brookhaven Veterans Association.
"I was hoping for a reunion, but when I started searching for my soldier friends I found that some of them were homeless," Lynch said. "One comrade in particular had really fallen on hard times. He was living on the street looking through dumpsters for food and clothing. I couldn't walk away knowing there were probably many veterans out there needing assistance, so I formed Suffolk County United Veterans to help supply housing, education, and employment for homeless veterans."
Meet veteran Wilkens Young: When you meet Young, director of operations for the SCUV, you might not suspect that behind his broad smile, he was once a veteran who came upon hard times, including being homeless. Young said that without the help of the SCUV, there is a strong possibility that he would still be unemployed and homeless. Young is just one of the organization's many success stories.
"The SCUV got me off the street, offered me educational opportunities and a job," Young said. "I worked hard to change my life around but I couldn't have done it without the support of John [Lynch] and the SCUV. The best way I can express my gratitude is to support other vets out there that need our help."
Scott Bradley of BNL's Information Technology Division, a member of the BVA, has been volunteering for the SCUV for quite some time.
"In the past, BNL donated computers to the SCUV," Bradley said. "My BNL colleagues, Frank Burstein and A.J. Temprosa, offered to provide computer training, and Gary Jorgensen and Louie Nieves volunteered to put in telephone systems. When I asked members of the Brookhaven Veterans Association to volunteer to refurbish local veterans housing units, they jumped at the chance to help out. We have an unfathomable camaraderie."
First, the BVA volunteers put together a list of repairs needed and prioritized their importance.
"Without the help of BNLers like Ron Prwivo and Pat Zoccoli, the BVA would have had a tougher time fulfilling this mission," said BVA Commander Don Farnam. "The generosity of BNL employees never ceases to amaze me."
The first place the BVA members started repairing and refurbishing was the Yaphank veterans housing location. The Yaphank location is usually the first stop for veterans to get off the street and find some clothes and food. From there, veterans can be placed in small group homes while they attend classes and look for employment.
At one group home in Shirley, BVA members John Bigrow and Pete Palamidis worked inside repairing the stairway and doing some electrical updates, while Mike Paquette, Dave Peter, and Dennis Ryan repaired the roof and chimney. That location is now home to four employed veterans.
"I am extraordinarily grateful for the volunteerism and support we received from Brookhaven Lab," said Lynch. "It is estimated that one in four homeless males are veterans. We work to get them shelter, medical attention, clothing, education, and employment, but above all, we work to regain their trust and let them know they are not forgotten."
For more information on the Brookhaven Veterans Association, go to their website or contact Don Farnam, Ext. 8248.
For more information on the Suffolk County United Veterans, contact John Lynch, 631.924-8088, or go to the Suffolk County United Veterans homepage.
2009-1487 | INT/EXT | Newsroom