First Virtual Memorial Day Tribute at Brookhaven Lab
May 21, 2020
At the U.S. Department of Energy's Brookhaven National Laboratory, members of the Lab community have gathered every year since 2007 to honor all who died while serving in the nation's military.
The Lab's Brookhaven Veterans Association (BVA) is continuing its annual Memorial Day tradition in 2020 with a video tribute instead of an in-person ceremony, while people refrain from gathering because of the ongoing COVID-19 pandemic.
"This is our very first virtual Memorial Day tribute and I'm grateful to everyone who takes the time to honor those who made the ultimate sacrifice. In doing so, we ensure that their memories, and that for which they stood, live on," said Don Farnam, a construction safety engineer in the Lab's Facilities & Operations Directorate and BVA member.
In his Memorial Day 2020 video address, Farnam tells the story of a former Brookhaven colleague's heroic son. Private First Class Garfield Langhorn Jr. was a radio operator in the U.S. Army during the Vietnam War.
Farnam himself is a veteran of the U.S. Navy and a former BVA commander. He also served as president of the Support Committee at Calverton National Cemetery. Calverton is the largest national cemetery in the United States and among the busiest nationwide. From gate to gate, the cemetery is about seven miles from Brookhaven Lab.
Suffolk County—where both Brookhaven Lab and Calverton National Cemetery are located—is home to the largest population of veterans in New York State. Suffolk also has one of the largest veterans' populations of any county in the United States.
At Brookhaven Lab, the BVA is one of seven employee resource groups, supporting an inclusive work environment and diverse workforce. The BVA supports Lab veterans and employees facing the challenges associated with loved ones currently serving in the military.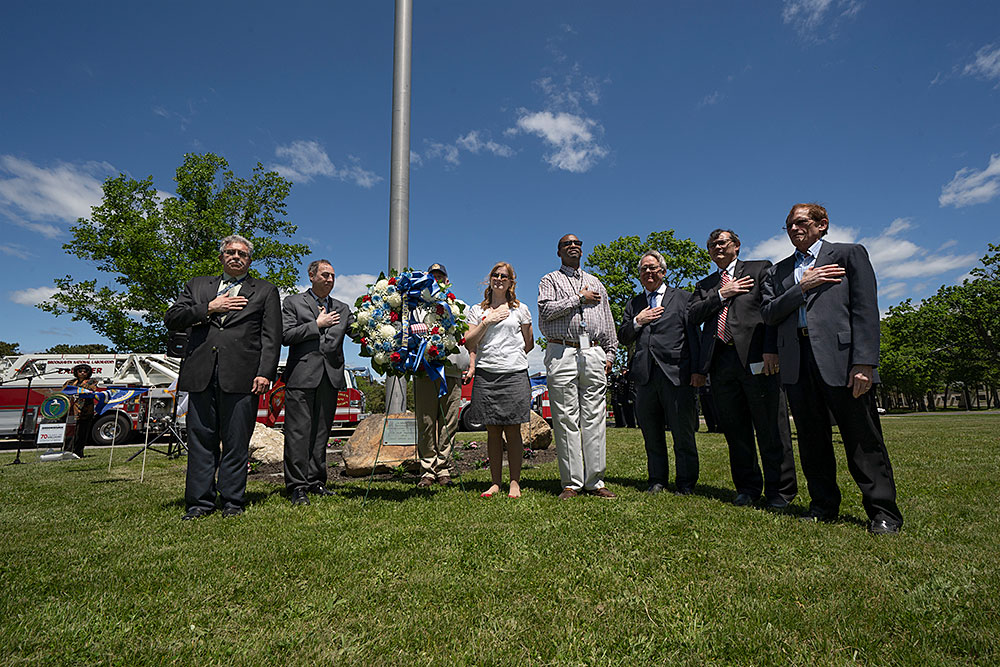 enlarge
The Brookhaven Veterans Association holds a Memorial Day ceremony annually to honor all who died while serving in the nation's military.
About Brookhaven Lab
Brookhaven National Laboratory delivers discovery science and transformative technology to power and secure the nation's future. Brookhaven Lab is a multidisciplinary laboratory with seven Nobel Prize-winning discoveries, 37 R&D 100 Awards, and more than 70 years of pioneering research. Learn more about Brookhaven Lab.
Today in the ongoing fight against COVID-19, Brookhaven is combining expertise across disciplines to address drug development, information processing, and more.
Brookhaven Lab is located at the site of the U.S. Army's former Camp Upton. During World Wars I and II, soldiers at Camp Upton trained and prepared for combat campaigns overseas. One of those soldiers—Irving Berlin—wrote "God Bless America" at Camp Upton in 1918. The Army also used the site as a convalescent and rehabilitation hospital for wounded veterans returning from World War II.
Brookhaven National Laboratory is supported by the U.S. Department of Energy's Office of Science. The Office of Science is the single largest supporter of basic research in the physical sciences in the United States and is working to address some of the most pressing challenges of our time. For more information, visit https://www.energy.gov/science/.
Follow @BrookhavenLab on Twitter or find us on Facebook.
2020-17217 | INT/EXT | Newsroom