NSLS-II User Profile: Joshua Carter, CEO of Helix BioStructures
In the "Leading Lights" series, visiting researchers sit down with NSLS-II staff for a Q&A on their research and user experience
September 8, 2020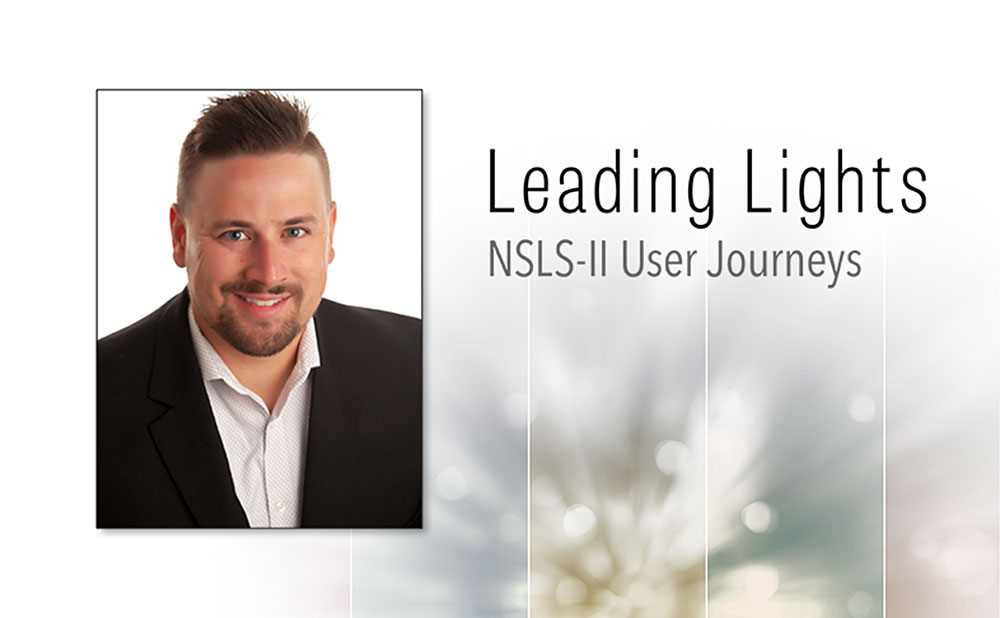 enlarge
Joshua Carter, CEO of Helix BioStructures
Joshua Carter is a co-founder and the CEO of Helix BioStructures, a contract research organization serving the pharmaceutical industry in early-phase drug discovery. Since starting Helix Biostructures in 2017, Carter has leveraged the fast-paced, industrial capabilities of the National Synchrotron Light Source II (NSLS-II)—a U.S. Department of Energy (DOE) Office of Science User Facility at DOE's Brookhaven National Laboratory—to perform x-ray crystallography experiments for his high volume of clients. Through Carter's work at NSLS-II, in addition to other services his company provides, Helix Biostructures has helped the pharmaceutical industry develop and improve therapies for a variety of diseases.
What role does Helix BioStructures play in drug discovery?
We're a contract research organization (CRO) providing research services to our customers in the pharmaceutical industry. We synthesize the proteins involved in diseases that our customers are trying to treat and then analyze the structure of these proteins using techniques like x-ray crystallography at NSLS-II. These 3-D structures help us determine how certain therapeutics can bind to those proteins. This pivotal data allows our customers to iteratively optimize the drugs they're producing. It's like a lock and key mechanism—you need the right fit between the drug and the protein in order for the drug to work. By improving the fit, you can reduce the amount of side effects the drug produces and increase its potency against the disease it treats.
We work with startups all the way to Fortune 500 pharmaceutical and biotech companies, so our customers' needs, and thus the services we provide, can vary greatly. A start-up may come to us with an idea and need help across the board, from identifying research techniques to actually carrying them out. The Fortune 500 companies, on the other hand, will outsource specific services like x-ray data collection to experts like us.
Our goal is to be one of the most renowned CROs in the U.S. In years past, Europe has really taken the crown for this and for good reason; they have several companies that have provided high-quality services for decades. There are also respected CROs in China that are doing great work at more affordable rates. We're trying to blend those two ideas, providing high-quality results while staying on the affordable side, so our customers are incentivized to be working with an American company.
Why did you choose to come to NSLS-II to collect data for your customers?
When I started Helix, I was looking for a U.S.-based light source where I could reliably conduct business. In other words, I needed a facility that could accommodate the needs of industrial users. Compared to academic users that are focused on a single project, I could be working on 50 to 60 different projects in a single shift, all for a multitude of companies focusing on a multitude of therapeutic values. The following week could bring 50 more projects. I need fast-paced results without sacrificing quality, and NSLS-II has provided exactly that.
The two beamlines that I primarily use are the Highly Automated Macromolecular Crystallography (AMX) beamline and the Frontier Microfocusing Macromolecular Crystallography (FMX) beamline. Both beamlines run at an industrial level with high automation and the staff are hands-down phenomenal.
My time as a user at NSLS-II has gone exactly how I could have hoped. Early on, I had the opportunity to collaborate with the beamline staff on how we could learn from each other and build a fluid system that worked for everyone. The staff is amazing at what they do. And as I've continued to return to NSLS-II, we've further optimized the process to fit everyone's needs.
NSLS-II also enables me to run remote sessions in which I can collect all the data from my office. Back in the day, I would have to be at a light source three to four times a week, but now I can service my customers with just one to two remote sessions.
What are some of the results you've achieved at NSLS-II?
We were able to use the small, bright beams at NSLS-II's FMX beamline to collect data on some tiny and imperfect crystals our customers brought us. In crystallography, you want a big, single crystal. Think of it like someone was proposing to you—you wouldn't want a sharded-up diamond on your ring; you'd want a big, perfect diamond, and that's exactly what we're looking for in a protein crystal. Unfortunately, science doesn't always work that way. So, the customer came to us for help and we brought the sample to FMX, where we were able to produce a high-resolution structure of this challenging target.
We've also used NSLS-II to determine the structure of an antibody-antigen complex that is related to cancer therapies.
What led you to start your own company?
After graduating from Indiana University Bloomington with a bachelor's degree in biochemistry, I joined a CRO called Shamrock Structures where I performed crystallographic experiments and x-ray data collection. The customers really appreciated the work ethic and expertise my colleagues and I provided, so when Shamrock closed their doors in 2017, it left open the opportunity for me to start my own company. My business partner, Dr. Soca Wibowo, and I thought it would be a side gig at first, but it quickly turned into a full-time job. Now, we've turned our original eight customers into more than 70 accounts. We started off only offering data collection at light sources, including NSLS-II, and then we quickly branched out to offer crystallographic services and protein production. Now, we're even expanding into cryo-electron microscopy.
What else is on the horizon for Helix Biostructures?
We are continuously branching out. One of the things we're working on is developing our own crystallography and structural biology software. This software automates the process of converting diffraction data from a light source into biological structures. This is up-and-coming and I think it's really going to change the industry. We're using very high-tech, computer-based programs, mixed with a little bit of AI, to run this process with little to no input from the user. There is amazing software out there, but we've reduced a process than can take up to 15 hours to just 30 minutes.
We're also looking into getting grant funding for our own therapeutic research for COVID-19. While we are currently working with a few customers who are studying proteins involved in COVID-19, we are also interested in conducting our own research.
What is the most exciting thing about your work?
For the company, the most exciting part is being able to help our customers and see their growth. There is something so gratifying about working with a company from its launch, lending your expertise, and seeing a final product come out of it.
Personally, it's the people I get to work with. Whether it's the beamline staff at NSLS-II or my own staff, there's so much to learn from every person I interact with.
Industrial users like Helix BioStructures are granted proprietary access to NSLS-II at a full cost-recovery rate. Non-proprietary access to NSLS-II is granted through a peer-review proposal process with no charge to researchers who agree to publish their findings.
Brookhaven National Laboratory is supported by the U.S. Department of Energy's Office of Science. The Office of Science is the single largest supporter of basic research in the physical sciences in the United States and is working to address some of the most pressing challenges of our time. For more information, visit https://energy.gov/science.
Follow @BrookhavenLab on Twitter or find us on Facebook.
2020-17243 | INT/EXT | Newsroom