In Memoriam: William Ward
November 23, 2020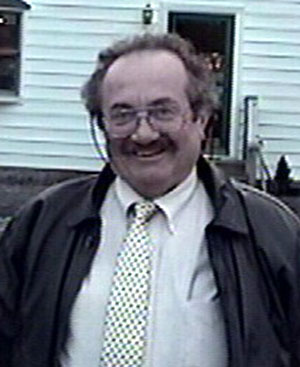 William Ward
William "Bill" Ward, a senior administrative services assistant in Brookhaven National Laboratory's NASA Space Radiation Laboratory (NSRL) Support Group, died on Sept. 24, 2020. He was 73.
Ward neared 20 years at Brookhaven Lab, having joined the former Medical Department in July 2001. He moved on to the Biology Department in 2012 where he had a stronghold in NSRL's financial duties among other responsibilities.
As a fan of history and a strong believer in progress through science, he was very proud to work at the Lab and held his coworkers in a high regard, said his daughter and son, Amanda and Bill Jr.
"In the last few years he considered retiring, but the community he found there was very important to him on a personal level and he wasn't ready to give it up," noted Amanda and Bill Jr. in an emailed message. "An impact of the continuing pandemic was that he didn't get to interact with his colleagues as much, and he really felt the loss. Our family wants to express our gratitude to the folks at BNL for the friendship and fellowship they showed him because it was such a positive element of his life."
His family remembers him as a happy guy who loved his children and grandchildren, who knew him as "Pop." He emulated his own beloved grandfather for them, making every effort to attend all their special events, they said.
Ward, originally of Mastic Beach, enjoyed photography and had made a living taking pictures for a number of years. He also had a love for science, technology, music, and science fiction shows and movies. In the last few years, he took an interest in computers and programming and taught himself how to use Microsoft Access. He earned an anthropology degree from Stony Brook University in 1992.
"He was usually quiet around people he didn't know, and very boisterous among people he was comfortable with," his family said. "He loved to debate, and had strong opinions about politics, society and science. He had a very sarcastic sense of humor."
Ward's children recalled a favorite memory from when their father was in his mid-30s. They were late for a family event one sunny day, so to avoid traffic and highway speed traps they took a "short cut" on undeveloped "back roads" across Long Island. They drove at high speeds with the windows down and Rock and Roll playing, catching air a couple times and laughing the whole way. As a grandfather, Ward took a more conservative approach on the road, making sure he drove below the speed limit, wore a seatbelt, and made complete stops at every stop sign.
"We used to joke about how different he was from that other wilder guy in the 1970s," Amanda and Bill Jr. said.
Peter Guida, Ward's supervisor and NSRL Support Group Lead, remembers him as an inquisitive, pleasant person who liked to joke about life's ironies.
"He was one of those people that when you came into work, you really wanted to see him," Guida said. "He was the kind of guy you loved to share a cup of coffee with at work."
Laura Loudenslager, a scientific associate in the NSRL Support Group, said Ward was not just a coworker, but a dear friend who attended her wedding and loved seeing pictures and hearing stories about her children. He was quick to have a story for every topic of conversation and was a go-to source for political insight, she said.
"He talked so often of his children and grandchildren that I felt like I knew them well—he was a very proud father and grandfather," Loudenslager said. "Bill was such an integral part of our work family and is deeply missed."
Colleagues learned from Ward's family that he regularly donated to St. Jude Children's Research Hospital and they in turn have made a contribution in his name.
In addition to his children, he is survived by his brother Robert Ward, sisters Lucille Grabow and Lorraine Lang, grandchildren Matt and Cassie Schweizer, and Aleksandra and Isabella Ward.
2020-17503 | INT/EXT | Newsroom