519th Brookhaven Lecture on 'Low-Dimensional' Nanomaterials
August 23, 2021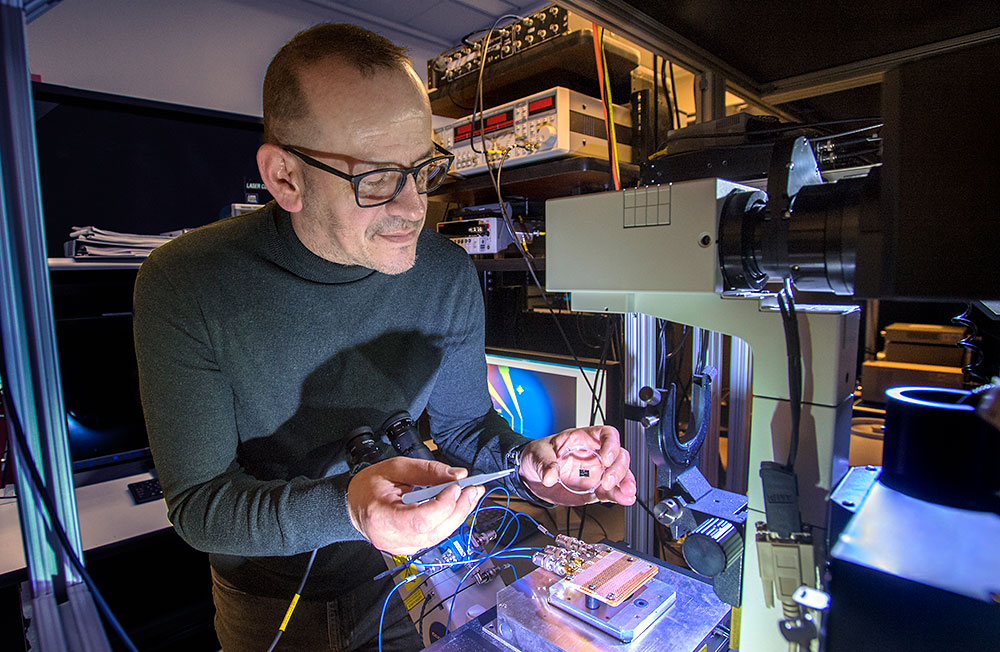 enlarge
Mircea Cotlet of the Center for Functional Nanomaterials at Brookhaven Lab
We live in a three-dimensional world. But in the ultrasmall nanoworld, measured at a scale of billionths of a meter, some materials are "low-dimensional." For example, semiconducting particles called quantum dots are zero-dimensional. Nanorods and nanowires are one-dimensional. And atomically thin materials such as graphene are two-dimensional.
One property that can change at the nanoscale is how materials interact with light. Light can affect how nanomaterials transfer charge and energy. These two processes are important for materials' use in producing and storing renewable energy as well as for applications including ultrasensitive light detection and quantum information science.
Ultrafast optical microscopy has emerged as a powerful technique for scientists to investigate light-driven phenomena in nanomaterials. By better understanding how these materials behave, scientists can optimize their function.
On Wednesday, Aug. 25, join Mircea Cotlet of the Center for Functional Nanomaterials (CFN) at the U.S. Department of Energy's (DOE) Brookhaven National Laboratory, for the 519th Brookhaven Lecture. His talk, titled "Ultrafast Studies of Optically Active Low-Dimensional Nanomaterials," will be held at 4 p.m. on Zoom.
During this talk, Cotlet will highlight ultrafast optical methods developed in the past decade at the CFN, a DOE Office of Science User Facility. He will describe how he used these methods to study charge and energy transfer in some specific nanostructures aimed at harvesting solar energy and detecting light. He will also discuss how developing an ultrafast optical facility at the CFN will support quantum materials research for advances in quantum computing.
About the Speaker
Cotlet joined the CFN at Brookhaven Lab in 2007. In 2020, he received Brookhaven's Science & Technology Award—the Laboratory's highest accolade for distinguished contributions to its science and technology objectives. Battelle named him Inventor of the Year in 2019.
Cotlet is also an adjunct professor in the Materials Science and Chemical Engineering at Stony Brook University. He was a technical staff member at DOE's Los Alamos National Laboratory after completing appointments as a postdoc there and at Harvard University. He earned his Ph.D. in physical chemistry from Katholieke Universiteit Leuven in Belgium in 2002.
Brookhaven National Laboratory is supported by the U.S. Department of Energy's Office of Science. The Office of Science is the single largest supporter of basic research in the physical sciences in the United States and is working to address some of the most pressing challenges of our time. For more information, visit https://energy.gov/science.
2021-19074 | INT/EXT | Newsroom