NSLS-II Researcher Yonghua Du Recognized as a Highly Cited Researcher 2021
Du was cited by Web of Science in its Cross-Field category, which identifies researchers who have contributed to highly cited papers across several different fields
April 5, 2022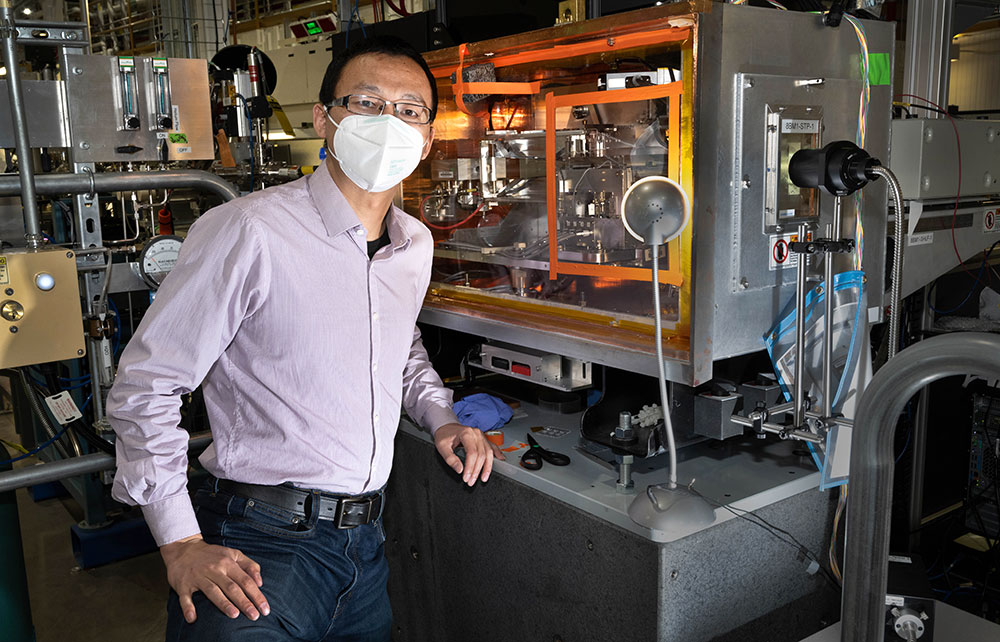 enlarge
Brookhaven Lab scientist Yonghua Du standing in front of the Tender Energy X-ray Absorption Spectroscopy (TES) beamline at the National Synchrotron Light Source II.
Brookhaven Lab scientist Yonghua Du has been named a highly cited researcher in Web of Science's 2021 report. Each year, the Web of Science publishes a list of researchers who have demonstrated significant and broad influence in a chosen field or fields over the past decade through highly cited papers. The list includes the top 1 percent of researchers by citation for a chosen field or fields. Du was recognized in the cross-field category.
"I have spent my career at synchrotron facilities, collaborating with as many researchers all over the world to uncover the secrets of their samples using our unique tools. Many excellent papers were published," said Du. "So, I am proud of this achievement."
In his position as a beamline scientist at the National Synchrotron Light Source II (NSLS-II), Du balances his time between developing more research capabilities for his beamline and building strong collaborations with researchers from across the globe. These researchers—called users—work together with NSLS-II experts to solve the biggest scientific challenges of today using the facility's unique research tools.
"We can boost the users' discoveries because we can study their samples in ways that they wouldn't be able to, and we can see more "secrets" hidden behind the data. Close collaboration between users and beamline staff is a win-win solution. It's the favorite part of my job; it always has been," Du said.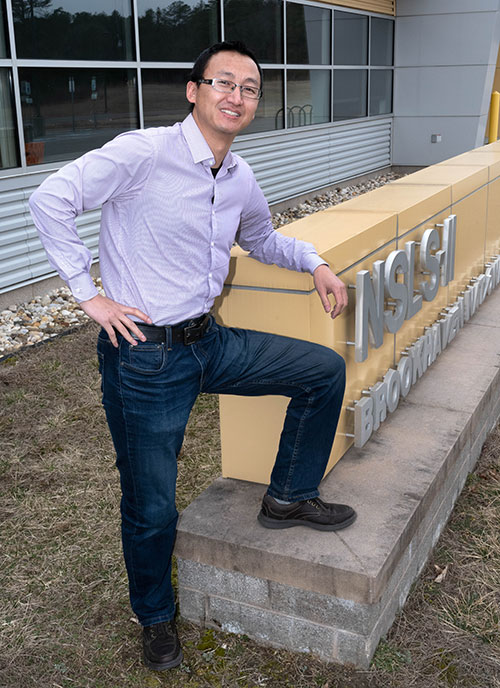 enlarge
Brookhaven Lab scientist Yonghua Du in front of the National Synchrotron Light Source II.
As the newest synchrotron light sources in the US, NSLS-II started operations in 2015 with only a handful of experimental stations—or "beamlines"—growing to about 28 of 60 possible beamlines by 2022. Du's research instrument, the Tender Energy X-ray Absorption Spectroscopy (TES) beamline, aims to meet the needs of three main research areas: geosciences, catalysis, and energy storage. To enhance the support for these areas, Du is working on adding another experimental chamber that is designed for high-throughput experimentation at the beamline.
"Tender x-ray science—particularly the combination of imaging and spectroscopy at TES— is an emergent research area. It bridges more mature scientific capabilities using soft and hard x-rays," says Yong Chu, the imaging and microscopy program manager at NSLS-II. "Du is playing a vital role in facilitating great scientific synergy across NSLS-II toward tackling many exciting new challenges."
Du joined NSLS-II in 2019, when the TES beamline was already open for user science.
"NSLS-II is a great light source, and it also continues to grow. This makes it a great place for one of my passions: leveraging artificial intelligence (AI) technology to optimize beamline operations," Du explained.
Du had used AI methods to optimize beamline measurements already during his time in Singapore. He even tested his method at other facilities—the light sources in Beijing and Shanghai—and showed that they are transferable between different beamlines.
"At NSLS-II, I can work with NSLS-II's AI researchers, engineers, and software experts to develop the methods further. I can collaborate with other beamline staff to expand the ideas to their instruments," Du added.
Before entering the world of light sources, Du earned his PhD at the Institute of High Energy Physics of the Chinese Academy of Science. After his PhD, Du stayed for two more years as a postdoctoral researcher at the same institute before he joined the Institute of Chemical and Engineering Sciences, Agency for Science, Technology and Research of Singapore in 2009. His mission was to build a new instrument at the Singapore Synchrotron Light Source, which is part of the National University of Singapore.
"For the first three years, my job was to build a world-class in situ x-ray absorption beamline and then, afterwards, my role was to build collaborations, advance research, and support discoveries; basically, the same work I am doing now for NSLS-II," said Du. "This is where the path to the award started: helping others to answer their research questions using synchrotron techniques."
Over the course of 10 years, Du worked with many research groups in various fields from energy storage to geoscience. When asked if he had any favorite experiments or papers during this time, Du answered that there were many, but one was special.
"We were studying a very interesting material that shows excellent oxygen evolution reaction performance—a process important for solar fuels cells and other clean energy technologies. Our x-ray absorption measurements showed that this material had a very close pattern to the standard nickel hydroxide. However, it couldn't be standard nickel hydroxide because of the huge catalytic performance difference. We spent about five months working on this, trying to figure out what the material was. Finally, we proposed a one-dimensional structure based on the additional synchrotron techniques we used. Our collaborators spent another six months to confirm that it is a one-dimensional nano-ribbon of nickel hydroxide, which explained the similarities as well as the differences," explained Du. "The effort of synchrotron techniques was critical to this work. In another words, this wonderful material would have been buried if we didn't manage to dig it out using synchrotron techniques."
Now, at the TES beamline, Du hopes that he will encounter more such mysteries that he can help solve.
The Web of Science and the calculation of the impact factor of research journals is produced by Clarivate, a public analytics company.
The National Synchrotron Light Source II (NSLS-II) is a Department of Energy (DOE) Office of Science User Facility located at DOE's Brookhaven National Laboratory.
Brookhaven National Laboratory is supported by the U.S. Department of Energy's Office of Science. The Office of Science is the single largest supporter of basic research in the physical sciences in the United States and is working to address some of the most pressing challenges of our time. For more information, visit https://energy.gov/science.
Follow @BrookhavenLab on Twitter or find us on Facebook.
2022-19455 | INT/EXT | Newsroom