Intern Meral El Ramahi Studies Possible Spinal Cord Therapy
September 3, 2010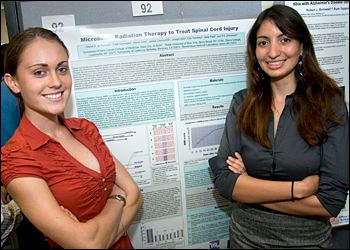 Meral El Ramahi (right) and fellow SULI intern Faith Consiglio, with whom she worked this summer, in front of El Ramahi's research poster
Meral El Ramahi wants to become a doctor, but unlike some would-be medical students, she doesn't plan on deserting research.
"It's something I'm passionate about," said El Ramahi. "As a physician, I want to do my own research alongside seeing patients. I want to have a multifaceted approach to health care."
Through a Student Undergraduate Laboratory Internship (SULI) at Brookhaven this summer, El Ramahi got a head start in the world of research. She spent 10 weeks working in the Medical Department under the aegis of Avraham Dilmanian.
Dilmanian and El Ramahi used the National Synchrotron Light Source to investigate the effect of microbeam therapy on damage to the spinal cord. "We're hoping to develop a treatment plan for spinal cord injuries," said El Ramahi.
Before arriving at Brookhaven, El Ramahi graduated from the University of Southern Indiana. This past spring, she worked in the lab of Indiana University School of Medicine Professor Tracy Anthony.
"I've always had an interest in research," El Ramahi explained. "I decided to pursue an internship and delve deeper into the research process. With Brookhaven's reputation, I knew it would be a great experience."
In the fall, El Ramahi will begin medical school at the University of Iowa Carver College of Medicine.
2010-1951 | INT/EXT | Newsroom