A Special Moment at the Lab with a Lab
October 25, 2010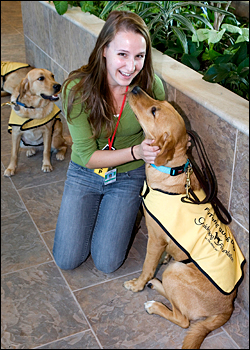 Daisy Yuhas
Daisy Yuhas, an intern working in the Community, Education, Government, and Public Affairs Directorate, enjoyed a special moment with a yellow Labrador retriever, just one of the puppies-in-training from the Smithtown Guide Dog Foundation (GDF) when the puppies visited the Lab on October 8 as part of a training exercise. "There were so many dogs — poodles, black labs, yellow labs, and a German shepherd," said Yuhas. "It was hard to decide which one to hug first!"
With logistical help from David Peter and Brian Buckheit of the Lab's Protection Division, employees of the GDF, together with volunteers and dog handlers, have visited the Lab on several occasions as part of a training program for these special pooches.
"The Lab is a perfect place to begin training the dogs in how to act in crowds and perform simple exercises like crossing the street," said Buckheit. "I want to thank everyone in my department and at the Lab who helps us coordinate these visits. I know the GDF greatly appreciates our efforts."
In about a year, once their training is completed, these special dogs will be given to visually impaired individuals.
2010-2060 | INT/EXT | Newsroom