Brookhaven's Ken White Receives Irving & Magarlit Like Conservation Award
White honored for leadership of education programs that inspire the next generation of scientists and environmental stewards
July 19, 2022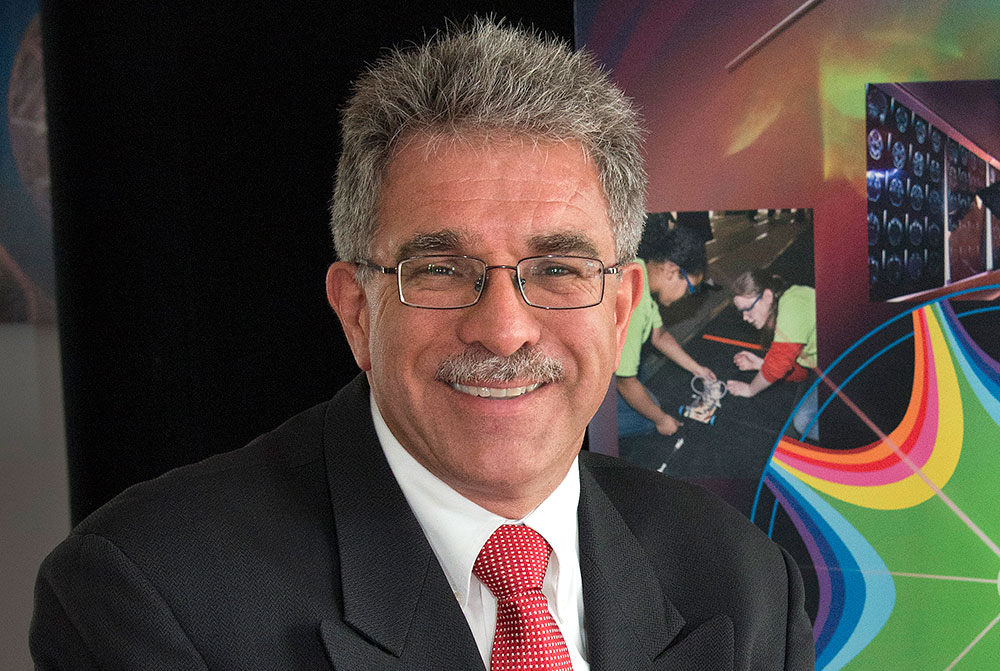 enlarge
Ken White
Kenneth White, manager of the Office of Educational Programs (OEP) at the U.S. Department of Energy's Brookhaven National Laboratory and co-steward of the Long Island STEM Hub has been named the 2022 recipient of Molloy University's Irving & Margalit Like Conservation Award.
The award recognizes White "for his inspiration, courage, leadership and spirit in the protection of Earth's oceans and the abundance of life therein."
His efforts reflect the legacy of environmental attorney and conservationist Irving Like, and Margalit Like, a teacher and librarian, who both valued lifelong learning and protection of the natural beauty of Long Island. Among Irving Like's notable work was his push to establish the Fire Island National Seashore and challenge to the never-opened Shoreham Nuclear Power Plant.
"It is an honor for me to receive this for the work done as a co-steward of the Long Island STEM Hub and leading the educational programs at Brookhaven Lab, many of which engage thousands of our local youth in environmental science and stewardship," White said.
Among the programs launched by OEP with collaborators across Long Island under White's leadership are the Open Space Stewardship Program and the "Day in the Life of a River" program. These programs have introduced thousands of Long Island students to hands-on environmental science and research, connecting them with environmental experts in the field to explore local ecosystems.
"Ken White's passion for helping young people succeed is infectious," said John Tanacredi, director of Molly University's Center for Environmental Research and Coastal Oceans Monitoring. "He graciously credits the dedicated professionals at Brookhaven Lab, the outstanding OEP team, and many partners across Long Island for enabling the Lab to be a great asset for STEM education in the Long Island community regionally and nationally."
As co-steward of the Long Island STEM Hub, White fosters a network of industry and academic leaders committed to encouraging local students to pursue science, technology, engineering, and math careers. Through the consortium's initiatives such as "Full STEM Ahead Long Island" students can learn about a range of STEM workforce opportunities.
The Like family and Molloy University representatives presented the award to White during a virtual ceremony on May 26. The annual event raises funds to endow a scholarship for students who major in Earth and Environmental Sciences at Molloy.
White earned a bachelor's degree with concentrations in engineering technology and education from the University of the State of New York, Regents College, Albany, in 1990, and an M.B.A. from Dowling College in 2003. From 1978 to 1986, White served in the U.S. Navy as a nuclear training instructor, a lead engineering laboratory technician and an engineering watch supervisor. In 1987, he became the Training Program Development Supervisor for the Long Island Lighting Company, and, in 1990, he joined Brookhaven Lab as a senior reactor support specialist at the High Flux Beam Reactor (HFBR). In 1994, he became Water Chemistry Group Leader at the HFBR.
In 1998, White was appointed as the Special Assistant to the Assistant Laboratory Director for Community, Education, Government and Public Affairs and Manager of Environmental Management Community Relations before assuming his current role at Brookhaven in 2004. A past president of the Long Island Section of the American Nuclear Society, White is a recipient of the Science Museum of Long Island Champion of Science Award and a Brookhaven Award for distinguished service to the Laboratory and is a co-recipient of the American Nuclear Society Training Excellence Award.
Brookhaven National Laboratory is supported by the Office of Science of the U.S. Department of Energy. The Office of Science is the single largest supporter of basic research in the physical sciences in the United States and is working to address some of the most pressing challenges of our time. For more information, please visit science.energy.gov.
Follow @BrookhavenLab on Twitter or find us on Facebook.
2022-20622 | INT/EXT | Newsroom