The following news release was issued by the U.S. Department of Energy (DOE), announcing $15 million in project funding as part of the Exploratory Research for Extreme-Scale Science program, which seeks to explore new approaches for enhancing scientific computing. Ning Bao, a quantum computational scientist with Brookhaven Lab's Computational Science Initiative, will lead one of the 22 awarded EXPRESS projects, Novel Quantum Algorithms from Fast Classical Transforms. The project aims to progress novel quantum algorithm design using classical mathematical transforms, i.e., functions originally applied in one domain used in another. Such transforms often help solve difficult equations and can be mapped back (transformed) to the original function. Fast classical transforms, or FCTs, will be assessed to determine if they: 1) can be converted into novel quantum transforms and 2) have the potential for a speed advantage over state-of-the-art classical algorithms. Finding quantum analogues for FCTs can lead to more algorithms for quantum simulation, impacting diverse DOE missions in areas such as physics, chemistry, mathematics, and cryptography.
Department of Energy Announces $15 Million in Exploratory Research for Extreme-Scale Science
Research spans innovative approaches in computer science, applied mathematics and quantum algorithms
September 28, 2022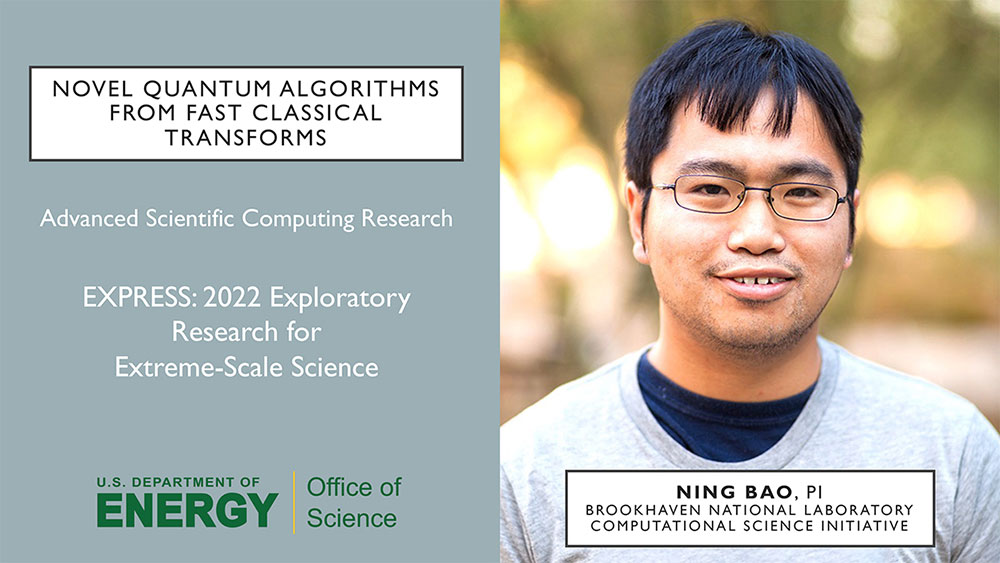 enlarge
With his new ASCR project, Ning Bao, a quantum computational scientist with Brookhaven Lab CSI, aims to discover novel quantum primitives, defined as a quantum subroutine used across many different quantum algorithms, by investigating classical numerical transforms. Currently, few such primitives exist in modern quantum algorithms, limiting their scope and reach. However, more quantum primitives could lead to new quantum algorithms with applications spanning from physics to mathematics, as well as many other DOE mission areas.
WASHINGTON, D.C.—Today, the U.S. Department of Energy (DOE) announced $15 million in funding for basic research to explore potentially high-impact approaches in scientific computing and extreme-scale science. The projects will address disruptive technology changes from emerging trends in high-end computing, massive datasets, artificial intelligence, and increasingly heterogeneous architectures such as neuromorphic and quantum computing systems.
"Significant advances will be required to develop effective approaches for realizing the full potential of scientific computing from emerging technologies," said Barbara Helland, DOE Associate Director of Science for Advanced Scientific Computing Research. "The EXPRESS projects seed the exploration of novel ideas and high-impact approaches for accelerating scientific discovery and innovation."
The 22 projects were selected by competitive peer review under the DOE Funding Opportunity Announcement for "EXPRESS: 2022 Exploratory Research for Extreme-Scale Science," sponsored by the Office of Advanced Scientific Computing Research within the Department's Office of Science.
Total funding is $15 million for projects lasting up to two years in duration, with $12 million in Fiscal Year 2022 dollars and outyear funding contingent on congressional appropriations. The list of projects and more information can be found here.
Brookhaven National Laboratory is supported by the Office of Science of the U.S. Department of Energy. The Office of Science is the single largest supporter of basic research in the physical sciences in the United States and is working to address some of the most pressing challenges of our time. For more information, visit science.energy.gov.
Follow @BrookhavenLab on Twitter or find us on Facebook.
2022-20851 | INT/EXT | Newsroom