Calculating the Future
Brookhaven's Train the Trainer program gives educators the tools they need to introduce students to cutting-edge computing
October 4, 2023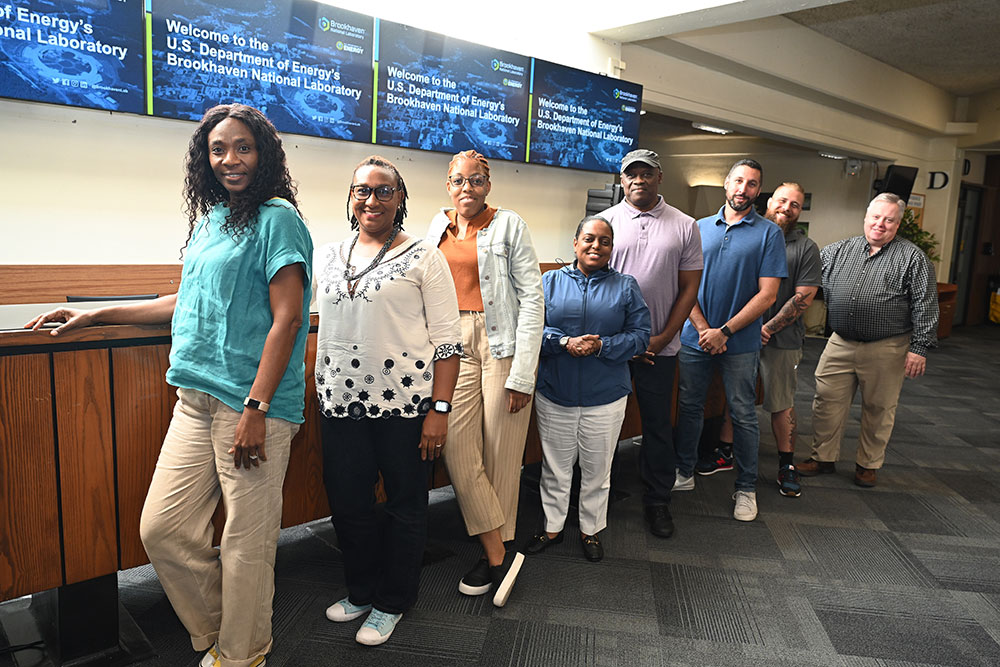 enlarge
David Biersach (right) and his scientific computing "train the trainer" class take a break before diving into the next coding session.
Teaching a new, valuable skill to a student can change their life. New skills can open up educational and career opportunities students may have never considered or help them solve issues in their communities. When teachers learn about these skills and how to pass that knowledge on to students, they are capable of changing several lives at once. This is the driving force behind the "Train the Trainer" program for scientific computing at the U.S. Department of Energy's (DOE) Brookhaven National Laboratory.
Scientific computing requires a unique set of skills to process large amounts of data or solve complex calculations. Despite being an invaluable tool for research, computing skills are seldom taught alongside most scientific subject areas. Researchers and staff who have these skills become essential on project teams, giving the students who learn from them an edge when embarking on the next step towards a career in STEM.
The new course at Brookhaven was created and taught by David Biersach, a senior technology architect in the Lab's Information Technology Division (ITD). Biersach has taught several well-received courses on scientific and quantum computing over the last decade, sharing his passion for this often-overlooked skill.
"There is not enough emphasis on solving real-world science problems using novel computing approaches within the standard curriculum," said Biersach. "My goal is to avoid relying upon abstract metaphors and instead show students how to write correct code that produces a result they genuinely understand."
This program was built on the experiences Biersach has had with students over the eight years that he has been teaching scientific computing classes, leading scientific computing clubs, and organizing summer schools in scientific and quantum computing. With assistance from the Lab's Office of Educational Programs and DOE's Workforce Development for Teachers and Scientists (WDTS) program, this course can amplify these kinds of efforts as other educators take the lead on their own scientific computing programs.
Brookhaven's Office of Diversity, Equity, and Inclusion (DEI) has also been incredibly supportive, funding student and teacher stipends, travel costs, and equipment used in the course. Noel Blackburn, Brookhaven's chief diversity officer, also leveraged his extended network to make meaningful introductions to local and state universities for this and future programs.
The hands-on course included lectures and challenging coding exercises using real-world examples. Students in the course came from a variety of different organizations, some local to New York and others travelling overseas to bring these important lessons back home with them.
Scientific_computing.extend(more_schools)
Anniona Jones is the principal of Marcus Garvey Technical High School in St. Ann, Jamaica. It may seem like a long way to travel for a computing course, but Jones has big plans for the material she's taking on in this program. She plans to collaborate on an island-wide virtual program for students and teachers that would introduce them to the foundational skills needed for scientific computing.
"Most computing courses in the schools here in Jamaica are focused on business and economics," explained Jones. "Scientific computing isn't something that's taught at local universities and high schools, and it puts students who are interested in a STEM career at a serious disadvantage. As teachers, it's our job to open doors and give our students new possibilities. We want to prepare them for jobs that may not even exist yet. The idea of Brookhaven extending knowledge beyond borders is admirable. Knowledge shouldn't have geography, color, class, or borders. It should be available to all of our students, and ours are some of the most vulnerable. These are amazing kids, and our teachers want to help level the playing field a bit more for them."
Through the Lab's Office of Diversity, Equity and Inclusion, this program is looking to expand beyond the reach of local boundaries. This course has the potential of being a game changer for many students as they start thinking about their careers. Ensuring that the next generations are equipped with the right tools to continue advancing science is of benefit to everyone.
Ryan Clancy is a biology teacher at Miller Place High School, a district that is only a few towns away from Brookhaven Lab. The school was planning to start a scientific computer course in 2019, but when the pandemic hit, there were bigger things to tackle, and this new endeavor had to wait. Fellow teacher Nick Corletto was leading the charge at the time, but he soon moved into a director position as everything began to settle back into place. Since this course meant a lot to him, Corletto put out a call to other STEM teachers who might be interested in heading up this new course. Clancy was eager to step up and make Miller Place the first district in New York state to offer scientific computing as an elective.
"Someone had to take the torch and run with it," said Clancy. "What Nick started was important. As I started working with him and Biersach to develop the class, I was surprised this wasn't in every school's STEM curriculum. If we want to be on the forefront of science and technology, we need to give students the best tools to become the best researchers. Looking at data that affects our community, like wildlife populations, and working through the computation really illustrates to our students how they can make a difference with these skills."
Even schools that specialize in computer science can have an unmet need for scientific computing courses. Cluny Lavache, the department chairperson for STEM at the Newark School for Data Science and Information Technology, took this course to address this need at her institution.
"It's my job to guide teachers and give them the tools that they need to provide students with strong foundational skills," explained Lavache. "In data science and information technology, these skills are constantly changing to keep up with the tech revolution. If we don't know what the careers of the future look like, we risk leaving our students in the dust."
Functions with Return Values
Starting Sept. 13, 2023, Jones and her collaborators started a weekly virtual SciComp 101 workshop with 30 students from Trinidad and Tobago. The following week, the same course started for 40 students enrolled from the Caribbean American Society of New York and Medgar-Evers Community College.
In October, Lavache will be co-instructing SciComp 101 at the New Jersey School for Data Science, and Brookhaven will start an introductory SciComp 100 for junior high school students at Selden Middle School. This school year, Bolger is teaching a formal SciComp 101 semester elective at Miller Place High School.
As these classes and workshops continue to ripple out, more teachers and faculty will be equipped to prepare even more students for this important component to a career in research. With courses developed using real research from a national laboratory, it's rewarding for students to see the way these skills are used to achieve timely results. Train the Trainer and related programs will give students an early window into what a career in a STEM field can look like.
Faculty from schools or universities who are interested in making scientific computing a part of their curriculum should contact David Biersach (dbiersach@bnl.gov) to learn more.
Brookhaven National Laboratory is supported by the Office of Science of the U.S. Department of Energy. The Office of Science is the single largest supporter of basic research in the physical sciences in the United States and is working to address some of the most pressing challenges of our time. For more information, visit science.energy.gov.
Follow @BrookhavenLab on social media. Find us on Instagram, LinkedIn, Twitter, and Facebook.
2023-21465 | INT/EXT | Newsroom