Ten BNL Scientists Granted Tenure: Meet James Alessi and Hooman Davoudiasl
January 26, 2012
Brookhaven Science Associates (BSA) granted tenure to 10 BNL scientists, effective December 1, 2011. The scientists are: James Alessi, Collider-Accelerator Department; Hooman Davoudiasl, Physics Department; Jason Graetz, Sustainable Energy Technologies Department; Ralph James, Nonproliferation and National Security Department; Qiang Li, Condensed Matter Physics and Material Sciences Department; Chang-Jun Liu, Biology Department; Ping Liu, Chemistry Department; Allen Orville, Biology Department; Paul Sorensen, Physics Department; and Bo Yu, Instrumentation Division.
Tenure appointments are made after a rigorous selection procedure culminating in a comprehensive review of each tenure case by the Brookhaven Council, an elected body that advises the Director on matters of concern to the scientific staff. The BSA Science & Technology Steering Committee oversees the tenure process and makes final recommendations to the BSA board. The newly tenured scientists will be featured in alphabetical order, or as photographs become available. The contributions of James Alessi and Hooman Davoudiasl are summarized below.
James Alessi, Collider-Accelerator Department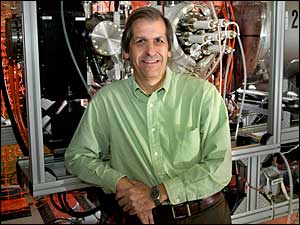 BNL Physicist James Alessi
Physicist James Alessi of the Collider-Accelerator Department was granted tenure for his significant contributions to BNL's Alternating Gradient Synchrotron (AGS) and the development of the world's largest and most powerful Electron Beam Ion Source (EBIS), which will soon provide all of the heavy ions for the Relativistic Heavy Ion Collider (RHIC).
Now an internationally known expert in ion sources and linear accelerators and leader of the C-AD Preinjector Group, Alessi came to BNL as an assistant physicist at the AGS in 1979.
His AGS work, specifically his modification of the cathode in its Magnetron H-source that allowed for the production of high beam intensity, made the AGS the world's most intense proton synchrotron for many years. Alessi's continuous work in beam injector developments was essential for the enduring success of the AGS accelerator.
More recently, Alessi led the development of EBIS, which will provide RHIC with the bright, high charge-state ions needed for research. The advancing performance of RHIC will enable the study of interactions between elementary particles that could clarify the development of the universe — one of BNL's fundamental scientific initiatives. EBIS is more compact and efficient than BNL's Tandem Van de Graaff injector. It will also be able to produce ion beams, which cannot be produced by the Tandem.
"Over the last three decades, Jim has advanced the state of the art of ion sources and pre-injectors, culminating with the world's most intense Electron Beam Ion Source injector development, thus allowing Brookhaven to stay at the forefront of accelerator technology," said Thomas Roser, C-AD chair.
Alessi earned his Ph.D. in physics from the University of Pittsburgh in 1979.
Hooman Davoudiasl, Physics Department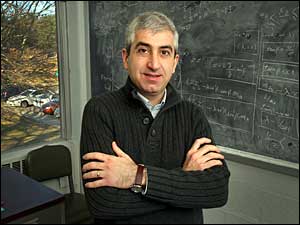 BNL Physicist Hooman Davoudiasl
Physicist Hooman Davoudiasl of the Physics Department was granted tenure for his significant and influential contributions to concepts that extend beyond the theoretical framework known as the Standard Model of elementary particles and forces by introducing extra dimensions in space-time and their connections to collider experiments. He plays a crucial role in clarifying the effects of warped extra-dimensional models of space-time.
Within the Standard Model, there is a theoretical wrinkle. Subatomic forces, mediated by the postulated mass-giving Higgs boson, are too strong compared with known gravity effects. Called the hierarchy problem, this conundrum may find more answers in warped, extra-dimensional so-called Randall-Sundrum models and through future findings at the Large Hadron Collider (LHC) at CERN, Switzerland.
Since arriving at BNL in 2006, Davoudiasl has co-authored two important papers relating to the special signatures of warped models that could be discovered at the LHC. With colleagues, Davoudiasl proposed, based on a warped extra dimension, models that imply cleaner signatures at the LHC than the original Randall-Sundrum model would achieve.
"Whether or not such models are confirmed by the LHC, from this past work we fully expect that Hooman will be one of the people constructing the models that will define whatever high energy theory becomes, as unequivocal signals of physics beyond the Standard Model emerge experimentally," said Tom Ludlam, Physics chair.
Davoudiasl, who earned his Ph.D. from the California Institute of Technology in 1998, received a Presidential Early Career Award for Science and Engineering in 2007. His theoretical work is a key element in BNL's 21st century scientific initiative to make breakthroughs in understanding the mechanics of the universe through particle collisions at the high energy frontier.
2012-2816 | INT/EXT | Newsroom