In March 2013, the U.S. Department of Energy (DOE) launched a new series, "Women @ Energy," to highlight women who are improving the world through their careers in Science, Technology, Engineering and Mathematics (STEM) across the DOE complex. To date, seven Brookhaven scientists have been featured.
Women @ Energy: Joanna Fowler
April 18, 2013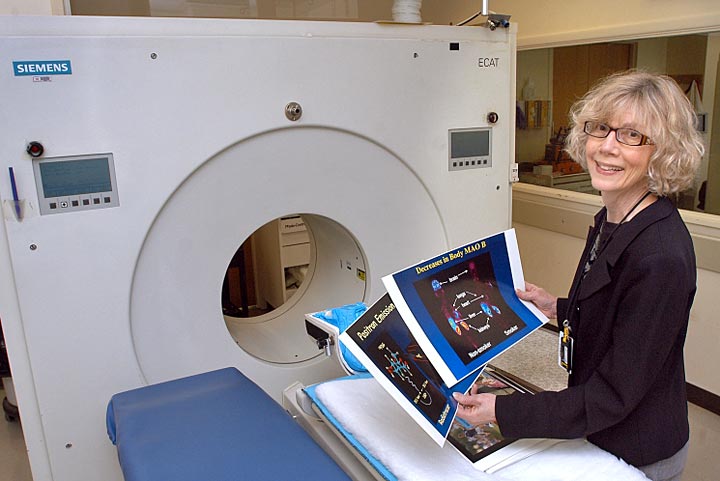 Joanna Fowler
Joanna Fowler works in the Biosciences Department at Brookhaven National Laboratory as a Senior Chemist. She also holds the positions of Director of Brookhaven's PET Program, Adjunct Professor of the Chemistry Department at SUNY at Stony Brook, Adjunct Professor of the Biomedical Engineering Department, SUNY at Stony Brook, and Adjunct Professor of the Department of Psychiatry, Mount Sinai School of Medicine. Joanna has been at Brookhaven since 1969, beginning as a Research Associate for the Medical Department and soon moving to Chemistry and Science positions at the lab. She earned her Bachelor's from the University of South Florida, her PhD from the University of Colorado, and completed Post-Docs at the University of East Anglia in England and at Brookhaven National Laboratory. She is the recipient of many honors and awards, including the National Medal of Science from President Barack Obama. She has numerous professional appointments, and is a member of the American Chemical Society, the Society of Nuclear Medicine, the American College of Neuropsychopharmacology, and the Society for Neuroscience.
What inspired you to work in STEM?
When I was an undergraduate at the University of South Florida, the Chemistry Department had just gotten funding for a National Science Foundation undergraduate research program. One of the professors, Jack Fernandez, invited me to work in his laboratory on organic reaction mechanisms. This transformative experience for me just hooked me on chemistry research. I never looked back. I went to graduate school at the University of Colorado and did post doctoral fellowships at the University of East Anglia and at Brookhaven National Laboratory.
What excites you about your work at the Energy Department?
I joined Brookhaven National Laboratory first as a postdoc with Dr. Stanley Seltzer and then as a staff member in the group of Dr. Alfred Wolf. As a post-doc I worked on synthetic organic chemistry studying reaction mechanisms. When I joined Al's group he had just started to work on radio synthetic chemistry of carbon-11, a 20 min half life isotope of carbon and fluorine-18, a 110 min isotope of fluorine. As an organic chemist I took on the fascinating problem of developing ways to rapidly incorporate C-11 and F-18 into organic compounds for visualizing biochemical transformations and the movement of drugs in living systems including humans with PET (positron emission tomography, a medical imaging method). The allowed me to develop tools to image biochemical transformations and the movement of drugs in the living human body.
This was very new at the time and we were able to explore new ideas which were high risk in terms of payoff and which could not be accomplished in the usual three year cycle of most funding agencies. We were able to build teams with scientists of very different expertise for example pairing physicists and chemists with physicians to tackle tough problems.
Early on our group and collaborators at NIH and the University of Pennsylvania developed [18F]fluorodeoxyglucose (FDG) a tracer for glucose metabolism. This is now the most widely used PET tracer for neuroscience and for diagnosis and managing cancer. In 2012 the NY chapter of the American Chemical Society designated the Chemistry Department at Brookhaven as a historic Chemical Landmark for this achievement.
Team science and high risk, high payoff research continues to be a hallmark of the national labs like Brookhaven. This was very attractive to me as a young scientist and the atmosphere at Brookhaven was most encouraging and supportive.
How can our country engage more women, girls, and other underrepresented groups in STEM?
We need more role models and examples of successful women and underrepresented groups who are in leadership positions in science and who are thriving in science.
We should never underestimate the impression that a happy, successful woman or minority scientist working in a respectful and supportive institution makes on a young person who is trying to decide on whether to go into science.
To me it is still shocking that in 2013 the numbers are so low and that there are still situations in the workplace which drive women and other groups out of science and/or discourage them before they even get started.
Leadership is the key. People in scientific leadership positions are responsible for setting a tone and creating a collegial atmosphere where science and scientists can thrive. Innovation and scientific and economic vitality requires no less. The tone of people in leadership positions can be enabling or disabling to a young person in the early stages of choosing or starting a career and even for scientists who are well established. Disrespectful and unprofessional behavior takes a devastating toll on diversity. It is not in our national interest to squander our mental wealth.
[It goes without saying that there needs to be help with childcare for both men and women who are starting a career and a family at the same time.].
Do you have tips you'd recommend for someone looking to enter your field of work?
Work very hard, find a mentor, good collaborators and learn to deal with failure as well as success. When choosing a workplace, be careful. Are scientists respected and well treated? Are people excited about their science? Is the workplace a happy one? And when you get into a leadership position, help others to be successful.
When you have free time, what are your hobbies?
I don't have much free time these days but when I do I like to garden, to cook and to spend time with my family and friends.
2013-3878 | INT/EXT | Newsroom