In Memoriam: Stevenson Eckhoff
May 24, 2013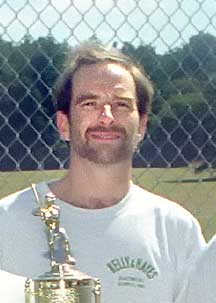 Stevenson Eckhoff
Stevenson "Steve" Eckhoff, group leader for the metal workers in the Site Resources Division, died March 9, 2013. He was 55.
Eckhoff joined the Lab in what was then called Plant Engineering on July 10, 1989, as a temporary metal worker-maintenance B. He was named a metal worker-maintenance A on January 1, 1990, and on December 6, 1993, he became group leader.
Eckhoff preferred the term "tin knocker" to metal worker to describe his work and was regarded as one of the best at his trade, according to long-time co-worker and friend John Berry. Eckhoff was a mentor to Berry and other members of the metal workers group.
"He would amaze me with his ingenuity, with his strategic thinking on the job," Berry said. "When I was first hired, our leadman told me Steve was the best he'd ever seen. And that was true, as Steve proved every day."
Eckhoff, Berry, and the other tin knockers have played an integral role at Brookhaven Lab.
"When you have buildings and ductwork from 40 years ago but have to install a new HVAC unit manufactured in 2013, none of the fittings match up," Berry explained. "That means custom work has to be done, and Steve was amazing."
Eckhoff knew people all around the Lab through his work, his membership in the International Brotherhood of Electrical Workers, and as a part of the Lab electricians' Team SureFire in the BERA softball league. He was equally at ease with language as he was fashioning metal joints, Berry said, and could make quick work of a crossword puzzle.
When he wasn't at work, Eckhoff spent time with his wife, son, and daughter at their home in Bay Shore. He pursued a love of classic and exotic cars and made no secret of his loyalty to the St. Louis Cardinals, although he also liked local New York teams, including the Mets.
"He'll be missed by people all around this Lab," Berry said. "And by his family, especially."
2013-3984 | INT/EXT | Newsroom