Jill Clough-Johnston: Small Business Officer with a Big Heart
February 18, 2008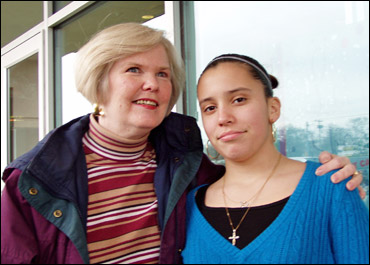 Jill Clough-Johnston may work with small businesses, but she has a big heart.
The small business liaison officer, who joined the Lab five years ago, has been mentoring 14-year-old Jenny, a girl from an at-risk family who needs someone to talk with and trust. The two met three years ago when the Long Island Youth Mentoring organization came to Clough-Johnston's church to seek volunteers.
"I immediately signed up," said Clough-Johnston. "I don't have children of my own, so I thought this would be a great way for me to experience what it's like to share time and thoughts with a young person. Jenny and I connected right away and we have both benefited from our relationship. She really is a great kid and I believe the two of us will be friends forever."
In addition to touring the Lab during Summer Sundays, the two typically spend time together talking over dinner, watching movies, and listening to local musicians. "I think music facilitates self-expression, so I've worked hard to bring music into Jenny's life," said Clough-Johnston. "We go to restaurants to hear local blues and jazz bands. Jenny is delighted when my husband Jeff joins the musicians on stage to play harmonica. She is now involved with Girl Scouts, and keeps busy with various scout activities that also help build her confidence and teach her the importance of volunteerism."
In addition to her time spent with Jenny, Clough-Johnston is the caretaker for her elderly mother and volunteers at her church and local garden club. But volunteerism isn't new to her. She has worked with the National Association of Blind Athletes and has been an advocate for Nassau County Services for rape victims. In 2007, she received the President's Award for Volunteerism and in 2006 she was the recipient of the Town of Brookhaven's Women's Achievement Award.
Adds Clough-Johnston, "I thoroughly enjoy working with small businesses and teaching them how to do business with the Lab, if applicable, and helping them expand their companies, while at the same time helping the Lab meet and exceed its small business goals. However, helping to make a difference in the life of just one young girl has been the most rewarding experience of all, by far."
Think you or one of your colleagues has a good story to tell? Email us! Although we can't write about everyone, we would love to hear your ideas and suggestions.
2008-422 | INT/EXT | Newsroom