ISB-inspired Greening Strategies for Your Home or Office
December 19, 2013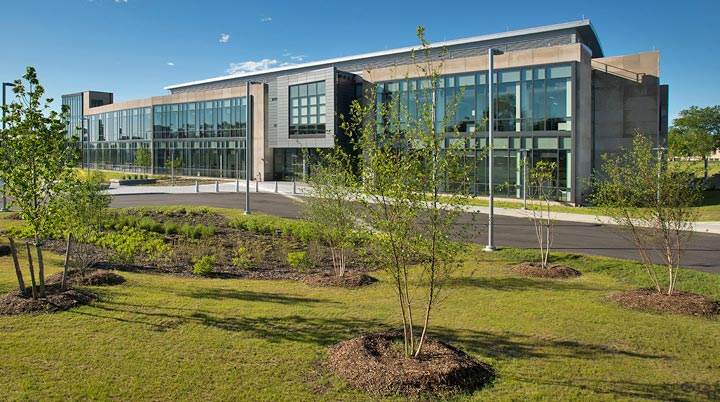 enlarge
The Interdisciplinary Science Building (ISB) for energy research at Brookhaven Lab, which was awarded Leadership in Energy and Environmental Design (LEED) Gold certification for its energy-efficient and environmentally sustainable design, construction, and operations
The Interdisciplinary Science Building (ISB) at Brookhaven Lab—which has received LEED Gold certification from the U.S. Green Building Council—is a world-class facility for cutting-edge research, but being green isn't rocket science.
Several strategies that earned the ISB its LEED Gold certification can help reduce energy usage and make any building more environmentally friendly, including:
Climate control: At the ISB, insulation and window coatings keep heat inside when it's cold outside. The coatings and a white roof also reflect sunlight to cool the building when it's hot outside. In existing buildings, insulation can be replaced or added, and new coatings can be applied to existing windows to help maintain comfortable temperatures inside while using less energy.
Cleaning Green: Custodians at the ISB follow a green-cleaning initiative to minimize use of hazardous chemicals. They use cleaners that are biodegradable, non-corrosive, or non-toxic along with mops, brushes, and garbage bags that are made with recycled materials.
Minimizing fumes: Paints, sealants, and glue used inside the ISB emit fewer volatile organic compounds (VOCs) compared to conventional counterparts. Products labeled low- or no-VOC help improve indoor air quality.
Running with less: The ISB's television monitors, refrigerators, ductwork insulation, roofing materials and more have passed rigorous energy efficiency tests to earn ENERGY STAR certification, helping to conserve electricity. Water is conserved at the ISB with low-flow toilet and faucet fixtures, and native plants have been used for irrigation-free landscaping.
ISB Project Manager Peggy Caradonna and her team oversaw the building's design and construction at Brookhaven Lab. She said, "Designing and constructing a sustainable laboratory building like the Interdisciplinary Science Building is different from renovating or constructing a home or office. But one decision at a time, we can all pitch in to be good stewards of the environment."
2013-4515 | INT/EXT | Newsroom