Meet the Lab's New Security Police Officers
January 24, 2014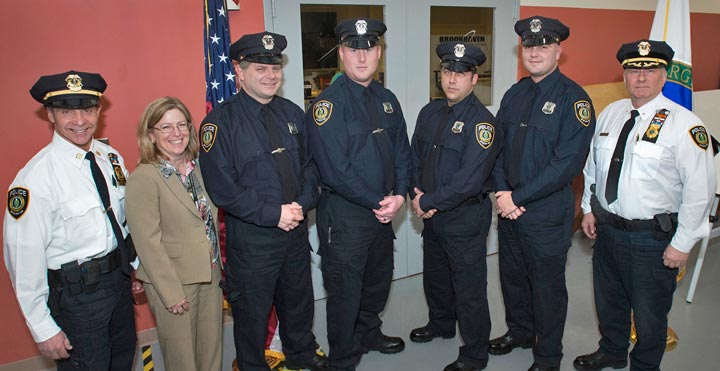 enlarge
From left: BNL Police Captain and training instructor Richard Sanniola, Deputy Assistant Laboratory Director of Facility and Operations Amy Nunziata, new Security Police Officers (SPOs) Robert Aglietti, Howard Miller, Christopher Micallef, and Christopher Ziegler, and BNL Police Chief Steven McCune. The recruits joined the Laboratory Protection Division in November and received their official SPO badges on January 10 after successfully completing nine weeks of intensive training.
This past November, the Laboratory Protection Division welcomed four new security police officer (SPO) recruits to their team. After completing a nine-week training program, the recruits received their official Brookhaven Lab Security Police Officer badges at a graduation ceremony on January 10.
In addition to the required basic SPO training, the four recruits — Robert Aglietti, Christopher Micallef, Howard Miller, and Christopher Ziegler — completed an intense program that included physical training, firearms qualifications, vehicle stop and active shooter scenario-based training, and tactical force. The recruits also completed four U.S. Department of Energy national training courses, nine Department of Homeland Security and Federal Emergency Management Association courses, and 35 Lab-specific on-line web courses.
All recruits scored above 95%, but Howard Miller edged out the others by earning a total training score of nearly 99%.
Meet the New Recruits
Robert Aglietti joins the Lab after working for 21 years as a police officer in a Central Park Precinct of the New York City Police Department. In his spare time, Aglietti volunteers in his community as a sports coach.
Christopher Micallef served in the United States Marine Corps and was deployed overseas as an advanced infantry squad leader and a sergeant of the guard at Guantanamo Bay. Micallef holds an associate's degree in accounting from Suffolk County Community College.
Howard Miller served in the New York National Guard as a military police officer deployed to Guantanamo Bay for one year. Miller holds an associates' degree in criminal justice from Suffolk County Community College and is also a volunteer with the Center Moriches Fire Department.
Christopher Ziegler served in the United States Marine Corps for almost 10 years, and was deployed overseas twice for a total of 21 months.
The new officers will work side-by-side and be mentored by other SPOs at duty locations throughout the Lab site over the next three weeks before being assigned to their own shifts.
"This is another extraordinary group of recruits," said Police Captain and Training Officer Richard Sanniola. "We set high standards of training and qualifications for BNL Security Police Officers and all four recruits excelled."
Added Police Chief Steven McCune, "Not only do these new officers come to the Lab with relevant and significant experience, they are already dedicated to keeping our employees, guests, users, and facilities safe and we welcome them to the Laboratory Protection Division."
2014-4569 | INT/EXT | Newsroom