In Memoriam: Shawn Grant
March 14, 2014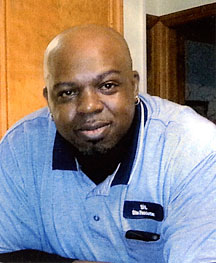 Shawn Grant
Shawn Grant of the Site Resources Division died on Dec. 14, 2013. He was 45 years old.
Grant arrived at the Laboratory on Oct. 29, 2007, and worked as a custodian. Most recently, he worked at buildings in the Alternating Gradient Synchrotron complex, which is home to three of the Lab's seven Nobel Prize-winning discoveries and an integral component for the Relativistic Heavy Ion Collider.
"Shawn always gave 110 percent from the time he came to work until the time he'd go home," said Grant's supervisor Carl Booker. "He was a family man who was very well liked and put everyone's needs before his own."
"Shawn was an all-around good guy. He was humble and a hard worker," said fellow custodian Sherry Yarborough. "He went out of his way to help people and care. He was his 'brother's keeper.'"
Grant is survived by his wife Sharlene; his children Evette, Shawn, and Shakeera; parents Elias and Virginia Grant; grandfather Leon Milden; and grandchildren, aunts, uncles, nieces and nephews. He was buried at Riverhead cemetery.
2014-4649 | INT/EXT | Newsroom