Meet Jorge Romero
January 28, 2008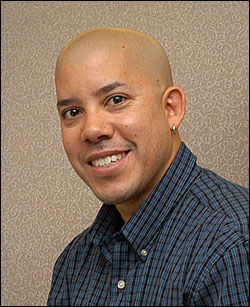 Jorge Romero joined the Human Resources staff as a benefits representative in September 2007.
Romero earned his B.S. in Business Administration from St. Joseph's College, and was working for a national mortgage company when he heard about the job opening at the Lab. Born and raised on Long Island, he had read about the Lab in local newspapers and he thought it would be a great place for him to begin a long-term career.
Romero said, "I was really happy when I was called for an interview. I followed the directions the police officer at the gate gave me and was amazed to find that the Lab seemed like a little town. When I arrived at building 400, I was pleasantly surprised to see a brand new, high-tech building. During the interview I already knew that I wanted to work here and I was extremely happy when I was offered the job."
Romero said that in the past few months, he has met many fellow employees and sees the Lab as a friendly, not-so-corporate atmosphere that fits his personality and career goals.
"It's a fantastic place to work and I am thoroughly enjoying being part of an institution that has made a difference in our world," he said.
Think you or one of your colleagues has a good story to tell? Email us! Although we can't write about everyone, we would love to hear your ideas and suggestions.
2008-499 | INT/EXT | Newsroom